RHOBH Reunion: Kyle Richards & Lisa Vanderpump Brawl, Brandi Defends Herself & Is LeAnn Rimes Joining The Show?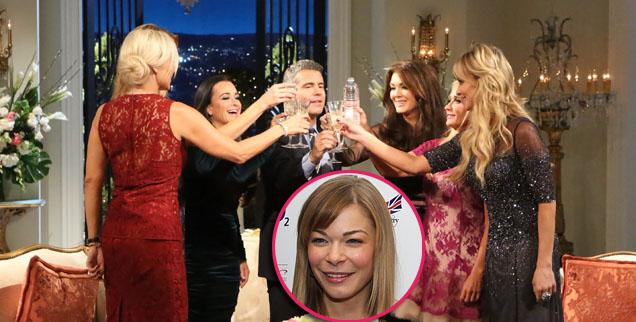 Article continues below advertisement
Adrienne Maloof did not attend the reunion and Andy confirmed that she will not be back for another season, but her absence didn't mean there was a lack of drama.
"When you sign up for a reality show, you don't get to have a secret," Brandi Glanville snapped about Adrienne, and explained why she went for her jugular. "I fight back, that's what I do. I'm a happy, sweet, fun-loving person until you cross me and then I will f*cking cut a b*tch."
Brandi's personal life provided the biggest laugh of the night, when Andy said that her nemesis, singer LeAnn Rimes, might be one of the new housewives.
"It's a rumor, and she said so many horrible things about this show," Brandi snapped about her ex-hubby Eddie Cibrian's new wife. "I feel like she'd be a giant hypocrite, so bring it on."
Taylor Armstrong's erratic behavior was brought up with Andy asking her if she drank too much this season. Surprisingly, she responded: "Absolutely!"
Article continues below advertisement
However, Taylor denied that she has an actual problem. "I don't now. I was really struggling. Although drinking was a bad choice, it was a natural choice."
Taylor also revealed she's in a relationship with her attorney, who, according to her, is in the midst of a "protracted divorce."
Brandi weighed in said Taylor's involvement with a married man "bothers" her and added: "I feel for his wife and his kids."
However, the major fireworks began when Lisa Vanderpump said that Kyle Richards' friendship with Adrienne was a "business transaction" because her husband, Mauricio Umansky, was selling their Beverly Hills mansion after the divorce. Lisa said she felt like Kyle dropped her as a friend after he sold her house (in the same neighborhood as Adrienne!) and Kyle said she feels like Lisa has dropped her as a friend and replaced her with Brandi.
Article continues below advertisement
Yolanda Foster then joined the fight, calling Kyle "two-faced," and that's when the drama hit a high note!
VIDEO: Yolanda Foster Realized She Had Lyme Disease Watching Herself On RHOBH
Kyle dropped the bombshell that while the ladies were in Paris, Yolanda said that Lisa is "phony" and "fake" and was only "pretending to care about Kim" and that the British babe is "full of sh*t!"
Yolanda called Kyle a liar, and when asked who she believes -- Lisa sided with Yolanda!
Part two of the explosive Real Housewives of Beverly Hills Reunion special airs next Monday on Bravo!