'RHOA' Recap: NeNe Explodes On Porsha After Skipping Her Baby Shower
Best friends turned into enemies on The Real Housewives of Atlanta reunion.
Andy Cohen wasted no time fanning the fires, opening the show noting that NeNe Leakes didn't attend Porsha Williams' baby shower and asking Williams if she sent a gift in her absence.
"I haven't gotten NeNe's, or maybe I missed it," Williams said.
"No, you haven't," Leakes told her, clarifying that she didn't send one at all.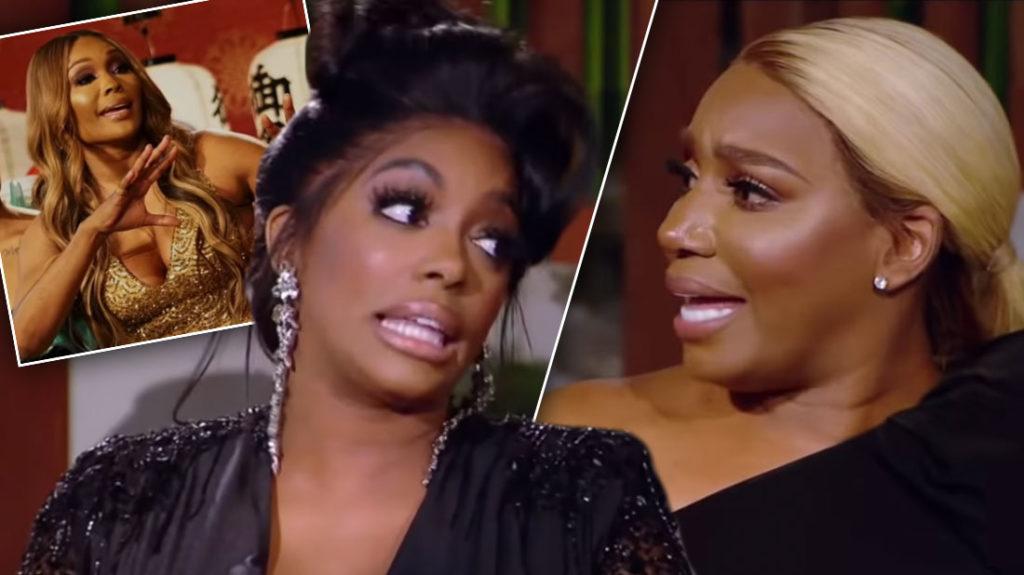 "Oh, ok so I didn't get one from her. Kandi sent a lot of stuff," Williams said about Kandi Burruss.
Article continues below advertisement
"I planned to buy you something," Leakes said. Bizarrely, she then revealed that she was in Canada, not Los Angeles, during the bash.
"I was honestly in Canada. There would be no reason for me to lie," she said, and Cynthia Bailey backed her up.
Williams opened up about how her life had changed after meeting Dennis McKinley.
"When I was married to my ex-husband I was in a controlling situation. With Dennis he loves every bit of who I am," she said and told Cohen that her engagement ring was 13-carats and may have cost a whopping $750,000.
Cohen asked Leakes if she had been checking on Williams during her pregnancy or if she attended her gender reveal party, and she told him no.
"She ain't been to sh*t," Williams said and Leakes fired back, telling her:
"I have been to a lot of stuff!"
Williams replied: "You haven't been to nothing for me."
She told Cohen her feelings were hurt and said she "noticed a pattern after the baby shower," and said she went to Leakes' events.
Article continues below advertisement
"She likes to tell people I'm not a supportive friend," Williams said about Leakes. "You haven't been supportive of me either!"
"Because you haven't been supportive that's why," Leakes told her.
"I'm telling you that I don't think that you are supportive," Leakes said and didn't apologize.
"Well then you're a** would have been at all my events," Williams told her. "I think you were trying to piggy back on me not attending Burruss event."
In epic NeNe Leakes fashion, she told her: "How I feel is how I feel."
Eva Marcille chimed in to tell Leakes that her "energy is real raw today. Aggressive."
She told Leakes that she felt disrespected at her bachelorette party in Tokyo.
"Girl, don't do it. My whole issue was with somebody totally different," Leakes warned her.
"If you're going to dish shade, you're going to receive some," Leakes told her.
Article continues below advertisement
"You couldn't have thought I was talking about you when you got to close friends," Leakes said to Bailey about her post.
"I do confront my friends to their faces," Leakes said about the situation, dismissing Bailey.
Cohen then asked Leakes about her tweet airing her marriage issues with her ill husband, and, pointed out that some of the ladies were critical of her scathing comments.
"I don't give a f**k about their opinion," she said about Burruss and Williams, who shamed her over her public rants about cancer-stricken Gregg Leakes.
Article continues below advertisement
"None of them know what I'm going through, they don't know how it is. They don't know. A caretaker position and the position I've been put in is a very difficult one," she continued.
Leakes then returned to slamming Bailey and her social media posts.
"That's how I feel about it. It seems like it's overdone, like it's overkill to me," she said.
"A girl can have an opinion, honey! But I have been the most supportive of Cynthia and Michael, despite what any of these girls are out here saying," Leakes insisted.
Bailey and Leakes then went back and forth.
"It's great. It's amazing. I think it's amazing," a sarcastic Leakes said to Bailey. "I was asked a question, and I gave my opinion. Friend."
"Okay, well," Bailey said, finally defending herself "I didn't like your opinion -- friend. I thought it was a little negative and I always try to be supportive.
In other fights, Marcille attacked Shamari DeVoe's dress, saying it was "too long but looks pretty while she's sitting down," and Shamari told her she "looks like a tree," in her ruffled dress.
Article continues below advertisement
Burruss addressed Marcille's comments about a friend that she said "wasn't black with a Q," a phrase Burruss thought was uncalled for.
"I meant that she was not in a singing group even though she was an aspiring singer," Marcille explained, but not very convincingly.
"The fact that you brought that up, thank you. I would like to clear up this whole idea of me having a colorism issue," said Marcille. "Colorism is an issue in communities of color all over the world, and to take lightly, like, 'Oh, she doesn't like dark-skinned people.'"
Burruss wasn't buying her response. "It definitely did not come off like you was trying to say she wasn't in a singing group. That's not how it felt; that's not how it came off."
And she told Marcille she was "shady as f**k."
Stay with RadarOnline.com for the Real Housewives of Atlanta reunion recaps!