'RHOA' Betrayal! Cynthia Blindsides NeNe By Inviting Nemesis Kenya To Bash: 'I'm Sorry!'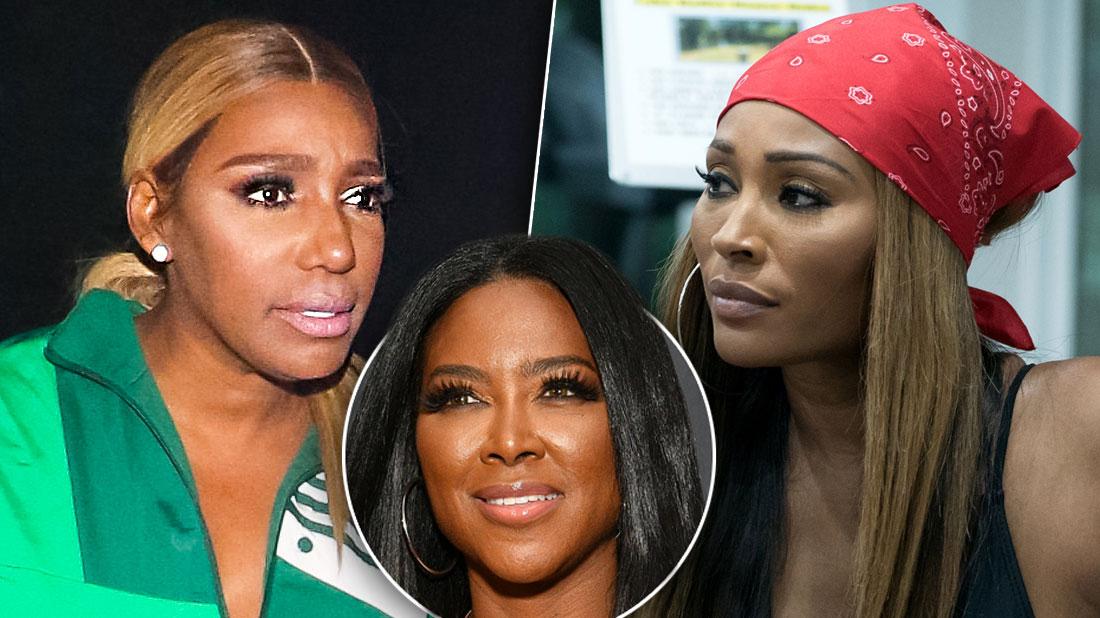 Kenya Moore is back!
Cynthia Bailey was busted lying about blindsiding NeNe Leakes when Kenya crashed her party on the season finale of the Real Housewives of Atlanta.
After Kenya didn't invite NeNe to her baby shower, all hell broke loose.
"This is fake beef all for attention," NeNe said about Kenya's attempts to try and start a fight with her to win her peach back on RHOA — after she was fired for not sharing details of her secret marriage.
Article continues below advertisement
As RadarOnline.com first reported, Kenya showed up at Cynthia's launch event for her Seagram's Escapes' Peach Bellini signature drink, shocking NeNe with her presence.
Cynthia confessed to Kandi Burruss that she invited Kenya to the celebration.
"I invited both of them to the party. And put whatever bullsh*t they got going on to the side," Cynthia told Kandi.
"Cynthia is going to be so happy you're here," Kandi told Kenya as they walked into the party together.
"Oh, I think a monster's here," NeNe said, looking horrified.
While standing right next to NeNe, Kenya hugged Cynthia.
"Now Cynthia, you said you wanted Kenya here and she's here," said Kandi.
"This is a bunch of bullsh*t Cynthia's doing," NeNe said in her confessional. "Considering she had every opportunity to tell me, she did not want me to know."
Cynthia tried to hide the fact that she invited Kenya herself.
Article continues below advertisement
"I didn't know you were coming," Cynthia said while hugging Kenya and standing right next to NeNe.
"Now you asked the girl to bring me. You know I was gonna come," a very pregnant Kenya said, and Cynthia still tried to cover that up.
"No. I didn't know you were going to come," Cynthia said.
In her confessional Cynthia said: "I'm happy, the last thing I'm going to concern myself with now is what's happening with Kenya and NeNe. It's not their night, it's my night."
Pregnant Porsha Williams knew what was going down.
"There's about to be some sh*t," she said.
Cynthia got on stage to thank all her friends for coming. After allowing Kenya to speak a few words, she tried to have Gregg come up to celebrate his health update, but NeNe refused to let him join.
"It's just another way to be a f**ked-up friend as far as I'm concerned," NeNe said about Kenya being on stage with Cynthia.
Article continues below advertisement
"I told you that girl was a mother**king trip," NeNe said to Marlo Hampton.
"You need to pull that b*tch to the side and curse her out," Marlo said.
Then, Cynthia was caught in her lie.
Cameras were rolling on her while she was dancing with her boyfriend Mike Hill and she whispered: "I'm supposed to act like I didn't know Kenya was coming."
In her confessional Cynthia slammed NeNe's petty actions.
"We are not in high school. I am friends with Kenya, and I am friends with NeNe. In the spirit of supporting a friend they could co-exist in a room. That's what grownups do," she said.
As pregnant Kenya left the party, she rudely ignored Nene who said: "She's going to have a buffalo," to Kandi.
After the bash, the ladies decided to meet. On the way, Cynthia called Kandi, who was already wearing her microphone so the entire conversation was recorded.
"I'm mic'd. I'm mic'd. I'm mic'd," Kandi tried to warn Cynthia, but she just kept talking, confirming that she and Kandi had lied.
"I just want to make sure we was on the same page setting up how Kenya got there," Cynthia told Kandi. "Ok I got ya," she told her.
Article continues below advertisement
NeNe and Cynthia finally had a confrontation at the restaurant with Kandi and Tanya Smith.
While Kandi continued to insist that Cynthia didn't know about Kenya coming to the party, NeNe ripped into her friend, who defended herself.
"Honestly, after I went to Kenya's baby shower, I hadn't really heard from you that much. I'd call you, but you wouldn't respond. You were being a little distant," Cynthia said.
"This was my event, NeNe. This was my event. I can invite anybody to my event. The only thing I wanted was for my friends to come on my night, but I didn't think for one second that you couldn't be in a room with Kenya," she said.
"Wasn't I in there?" NeNe clapped back.
"Lately I've just been really feeling like something has happened in our friendship. You have not been the same friend to me that you are to your other friends," NeNe said.
Article continues below advertisement
"Your other friend started a lot of stuff. Why did you never address her about that?" she asked.
"Whatever you and Kenya have going on, that's between you and Kenya. If you guys don't get along, it has nothing to do with me," Cynthia said. And even though NeNe burst into tears and fled the restaurant, Cynthia followed her out into the parking lot to finish their conversation.
"I am sorry for not giving you a head's up," Cynthia told her and NeNe seemed to be thawing.
"NeNe, I am your friend and I know that you are hurting. You know I would do anything for you. I am sorry. Can you forgive me? I am sorry. I should have told you," she said.
Crying, Nene told her: "I don't want to feel like I'm losing a friend," and Cynthia apologized again. "It will not happen again."
In her confessional, NeNe didn't seem to fully trust Cynthia.
"I hope that Cynthia and I are in a good place and that our friendship is as tight as I think it is, but she's just made me see her in a different light," she said. "And that light is dim."
Article continues below advertisement
"No matter what, I love NeNe," Cynthia said in her own confessional. "Good, bad, ugly, ups and downs. I am her friend and I will always be there for her."
But NeNe wasn't so sure. "I'm really afraid our friendship will end forever," she said.
The show ended with an update for each woman.
Shamari and Ronnie are hosting a "Married 4 Life" walk in Atlanta in April. Her "three drink minimum" remains in effect.
Porsha and Dennis welcomed hotdog princess Pilar Jhena McKinley on March 22, 2019. They plan to "make it official" on New Year's Eve. She's keeping the over bun-free until after the wedding.
Kandi is taking her "Welcome to the Dungeon" show on the road. Cynthia has declined the offer to tour with the show.
Eva continues to dodge rumors of "financial ruin." She's bringing in coins from her new gig cohosting Dish Nation…until Porsha returns from maternity leave.
Gregg's health continues to improve. NeNe is keeping her wig glued down…and her closet door closed.
The Bailey Wine Cellar is opening soon. And Mike Hill is getting ready to propose…a toast to her newest venture.
Stay with RadarOnline.com for weekly recaps of The Real Housewives of Atlanta as the three-part reunion begins Sunday, April 7 at 8 p.m. on Bravo.