It's The Stormiest Weather Report Ever! Australian Broadcaster Is A Deer In The Headlights Without Autocue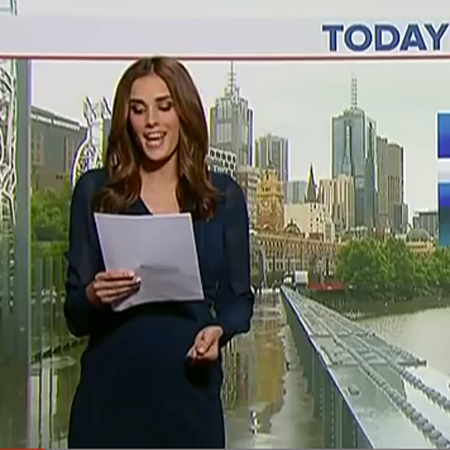 Australian weather broadcaster Rebecca Judd, of Melbourne's Nine News, found herself on the spot delivering a report Wednesday, fumbling when autocue options failed, leaving her report a sludge disorganized with little room to improvise.
"Sorry, we are having some technical difficulties here," said Judd, who's married to Australian Football League player Chris Judd.
"I might throw back to you Pete, is that OK?" the weather broadcaster told anchor Peter Hitchener, who was calm, cool and collected as he finessed his comely colleague through her report.
Article continues below advertisement
"These things happen," he said, "even in the best regulated households."
Watch the video on RadarOnline.com
The 30-year-old jaw-dropper later took to Twitter to explain the incident, calling her's a "tough night at the office!
"Thank The Lord for @phitchener9 At least we can laugh about it now #majortechnicaldifficulties. In case you were giggling too hard to notice what I was saying- a top of 18 tomorrow and up to 4mm of rain. See you tomorrow!"