Real Life Armageddon! Meteor Shower Leaves 550 Injured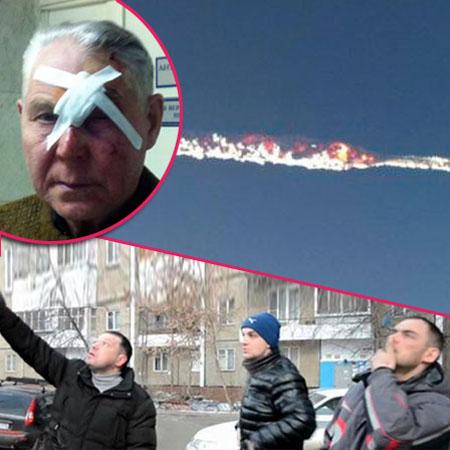 A shocking and devastating meteorite shower -- being compared to the Bruce Willis movie, Armageddon -- burnt up the sky Friday morning before exploding over Russia.
The shower caused shock waves and sonic booms that shattered thousands of windows and caused fires.
More than 550 people sought medical attention, and 34 people were hospitalized in central Russia.
Russia's Emergency Ministry said tiny pieces of the space rock hit a lake near Chelyabinsk, about 930 miles east of Moscow.
Article continues below advertisement
Spokesman Vladimir Stepanov estimated that 270 buildings had been damaged as result of the incident, and RIA Novosti news agency reported that 20,000 emergency response workers have been dispatched to deal with the fallout.
"We saw a big burst of light then went outside to see what it was and we heard a really loud thundering sound," Chelyabinsk resident Sergey Hametov told the AP. "There was panic. People had no idea what was happening.
"Everyone was going around to people's houses to check if they were OK."
youtube
Watch the video on RadarOnline.com
The European Space Agency said that while meteors are incinerated by earth's atmosphere, the fragments that pass through can smash the ground at up to about 19,000 miles an hour.
youtube