They'll Make Love To You! Vladimir Putin Looks To Boyz II Men To Increase Russia's Population!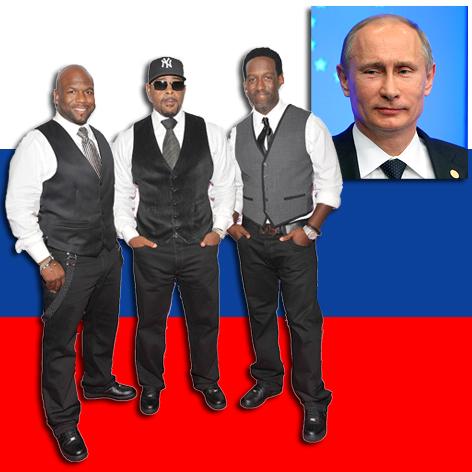 Former Russian President and all-round chauvinist Vladimir Putin has recruited Boyz II Men to perform a live show in Moscow in an attempt to boost the country's population, RadarOnline.com reports.
The manly 60-year-old politician believes the R&B group's sensual sound is enough to make their legions of Russian female fans weak at the knees and frisky in the bedroom.
The move is part of Putin's continuing PR campaign to persuade women to have more children with the population of Russia currently stalling. Ironically, the performance is scheduled to take place a week before Valentine's Day.
Article continues below advertisement
"The stylish trio of Boyz II Men, the most successful R&B group of all time, is coming to Moscow on February 6. The group will perform a selection of their classic and new romantic ballads, hopefully giving Russian men some inspiration ahead of St. Valentine's Day," a report confirmed in the Moscow Times.
While band members Wanya Morris, Shawn Stockman and Nathan Morris told the newspaper: "Russian audiences have always shown us a lot of love. It's amazing for us to see fans across the world who know every lyric to our songs. We really appreciate all the support they have given us over the years."
In December, Putin stated his intentions in leading Russia to become more powerful on the world stage during a state of the nation address.
"In order for Russia to be a strong and sovereign country, there must be more of us and we must be better in morality, in our competences, our work and our creativity," Putin demanded.