Booty Battle! Kandi Burruss Tells Kenya Moore 'Do Something Else' In Fight Over Workout DVD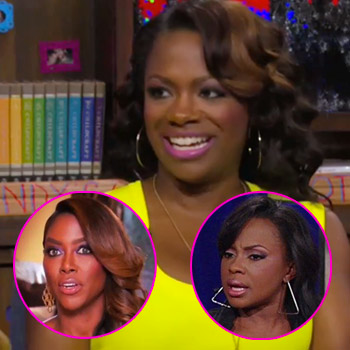 Article continues below advertisement
The two former friends fell out over Kenya's budget demands and her desire to get 10-percent of the back-end profits.
When those negotiations broke down, the former Miss USA decided to make her own workout video.
And now it seems she has been letting everyone in Atlanta know that her "stallion booty" DVD will be better than Phaedra's donkey booty workout.
Celebrity hairstylist Derek J broke the news to Kandi during one of her hair appointments. He said he bumped into Kenya at the Bronner Brothers International Hair Show.
Article continues below advertisement
During the episode, Kandi immediately calls Phaedra and gets Derek J to tell her what Kenya said.
He tells Phaedra: "She was saying who wants a donkey butt? A donkey is broke down. It moves slow. She said a stallion is nice and strong."
Naturally Phaedra was not amused. She said: "She's trippin' now because somebody brings an idea to you and you steal it.
"Ain't nothing legit about doing nothing like that."