'RHOA' Reunion Beatdown: Porsha Williams Was The Winner, Costar Kandi Burruss Declares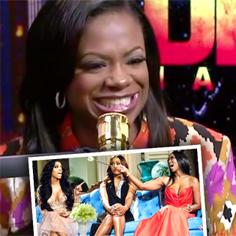 Article continues below advertisement
"There was no love at the reunion," Mama Joyce's daughter revealed. "It caught us off guard. We had no clue that was about to happen."
As RadarOnline.com previously reported, Williams became enraged after Moore was taunting her with sex toys and gay slurs against her husband Kordell Stewart, and she attacked Moore, knocking her to the ground.
"I never in a million years that Porsha would mollywhop her," Burruss admitted.
When asked by the show hosts if Moore "received a 'Passion of the Christ' style beating," she explained what transpired.
"It was quick, I don't know if I would say all of that. She definitely caught her by the head."