Behold The Wrath Of NeNe Leakes: Kenya Moore Tries To Apologize But Gets Shot Down!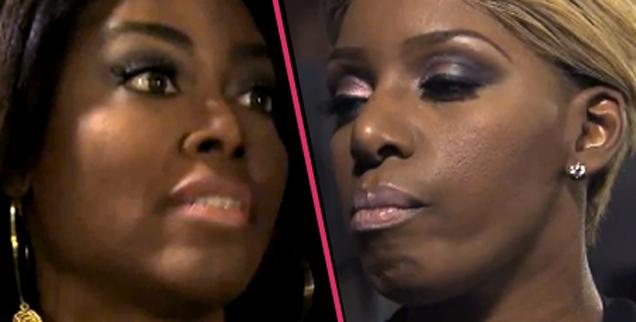 In the wake of the violent brawl that broke out at the pillow talk party, Kenya Moore tried to apologize to her The Real Housewives of Atlanta costar NeNe Leakes for any wrongdoings so that they could move forward.
"I've learned my lesson with NeNe and I'm a smart girl," Moore told the cameras shortly before she confronted Leakes. "I know when NeNe has an audience, she likes to perform, so I dismiss the other girls so I can get to the bottom of what's been going on."
Article continues below advertisement
Moore attacked the situation head on!
"You know, I'm just hearing that you are so angry and all this stuff that happened when I'm just trying to do something nice for you," she said to Leakes.
In a side note to cameras, Leakes said that she would listen to Moore, but not take anything the former Miss USA had to say seriously.
"Kenya's full of sh*t in my opinion," Leakes said. "I don't generally deal with sh*t, so I do have two ears, so what she says can politely come through one and go right out the other."
But Leakes didn't hold back when it came time to share her own opinion.
"I know that you want to try to figure out how you can be right in situations," she said to Moore. "But anytime that you honor somebody, if you're going to honor them, you're having a special event for them, a ball, you call them up and say, 'Look, this is what I'm doing and I want you to be there.' You never did that. And last time I saw you, you and I were having a disagreement. In my opinion, you act a fool. You just denied everything like it wasn't a big argument that happened at pillow talk. I felt like you played a very big role in that."
Article continues below advertisement
Faked Scenes, Lies & Payoffs – The Ultimate Guide To Reality TV Shows
Moore tried to get a word in.
"But it just seems like you are carrying all of that over to the point where… " she said before being interrupted by Leakes.
"I felt like I was bullied to be at that event," Leakes quickly stated. "You sent me a text, 'You should be here or you're going to look bad…' I got your text."
Leakes seemed pissed off that Moore was trying to mess with her.
"I want Kenya to understand that I am not the one to play with, okay?" she said to the cameras. "You want to play these games with the rest of these girls, you do just that. But I'm not the one. I AM NOT the one."
In the end, Moore finally got out her apology.
"I wasn't going to take the blame of everything, but I take the blame for my part and I apologize," she said. "I hope you hear that loud and clear."
Leakes responded, "I hear you."
But even after Leakes and Moore hugged it out, Leakes gave a warning to the cameras.
"Kenya apologized, but I'm this kind of girl: You show me your hand once, I don't sit around for you to show it to me twice," she said. "I will always keep a clear eye out."