Ramona Singer & Aviva Drescher Bury The Hatchet — Over Tequila Shots!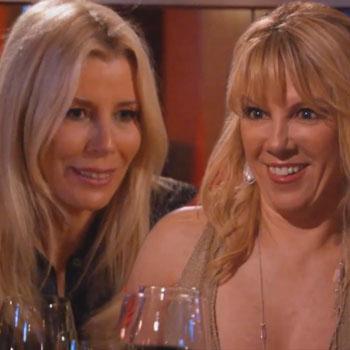 The long-standing feud between Ramona Singer and Aviva Drescher may FINALLY be over.
The ladies, who had numerous showdowns during last season of Real Housewives of New York, are back together in a new clip for the season premiere and appear to be cordial … for now.
During the meet up, Drescher notes they haven't spoken in "a long time" and suggests that they do tequila shots.
Article continues below advertisement
Noting that Drescher doesn't really drink that much, Singer admits: "I don't know what Aviva's trying to do, what she's trying to pull."
Drescher admits that it's her first ever shot, but after knocking it back, she declares, "The shot wasn't such a big deal – I've swallowed worse!"
Singer, who recently filed for divorce from her husband, tells the waitress to keep the cocktails and wine coming.
Turning to the cameras, Drescher adds: "Drinking isn't really my thing, but if it'll get me back into Ramona's good graces, let's go."
The Real Housewives of New York City returns to Bravo on March 11 at 9 p.m. ET.