'You're Changing My Words!' Prosecution Psychologist Angrily Tells Jodi Arias' Defense Attorney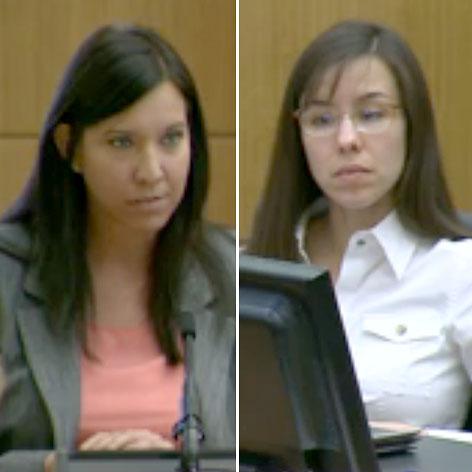 It was a psychological face-off yet again on day 50 of the bombshell Jodi Arias death row murder trial, as the prosecution rebuttal witness sparred with a defense attorney over the nature of the killer's deep-rooted emotional issues, and RadarOnline.com has the video.
Prosecution witness and psychologist Janeen DeMarte has tried to dismantle the argument that 32-year-old Arias was an abused woman who had no other option than to kill in self-defense, instead diagnosing her with "borderline personality disorder."
Article continues below advertisement
When asked by Jodi's lawyer, Jennifer Willmott, if there was a "pattern" in the text messages between Arias and victim, Travis Alexander, she described them as "infrequent comments" rather than a pattern.
Willmott then steadfastly accused her of retracting on her previous testimony, which the young Phoenix-based psychologist adamantly denied in the Maricopa County Courtroom.
"I am not taking anything back, you're changing my words," said DeMarte. "I said a pattern within – you're talking about a pattern across – that is a very different presentation."
When hammered by Willmott as to whether all the criteria for a "borderline personality disorder" related to Travis, she bluntly replied, "There are other instances. I would be happy to provide other examples."
Rather than looking bored and sketching artistic creations on her notepad as she has in recent weeks, Arias paid close attention to DeMarte's testimony on Thursday and was transfixed by the sharp-speaking brunette's evaluation of her.
Article continues below advertisement
As the courtroom showdown progressed to dissecting emails and letters between the explosive one-time couple, DeMarte admitted that some of the messages from Travis were "mean" and "not okay," but didn't qualify as abuse.
Using Juan Martinez -type bulldog tactics, Willmott tried to corner her adversary and led her to forcefully say, "I can't analyze Travis, he is dead!" – prompting a sudden sidebar and lunch break so that everyone could cool down.