Faux Boyfriend? Porsha Stewart Alleges Kenya Moore Tried To Pay Singer $15,000 To Be Her 'African Prince'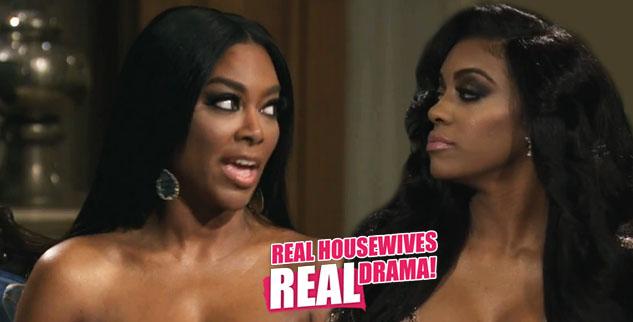 Kenya Moore has been gushing about her "African Prince" all season on The Real Housewives of Atlanta, but her new nemesis Porsha Williams dropped a major bombshell, claiming her co-star couldn't even pay a guy to be her man!
In a new preview for Sunday's reunion, Andy Cohen confronted Moore about her alleged boy toy – whose identity has been kept a secret – revealing that viewers poured in comments, suggesting that her boyfriend isn't real.
Article continues below advertisement
"I don't have a need to prove anything to anyone," Moore said.
Faked Scenes, Lies & Payoffs – The Ultimate Guide To Reality TV Shows
When Williams rolled her eyes, Cohen asked her to weigh in on Moore's lover.
"You've stated everything about the guy, except for showing him — it's very clear that there is no African Prince for you — there never was," Williams said.
Then, Kordell Stewart's ex-wife dropped a bombshell: alleging that Moore tried to hire an African-Nigerian singer to be her boyfriend on the Bravo reality show.
"You just tried to pay somebody $15,000 to be on the show," she claimed.
Moore dismissed the comments, claiming the rumors started online.
"Excuse me. I'm talking now," Moore said, waving her scepter in Williams' face.
Feud up with the props, Williams claimed, "I'll whoop your a** b*tch… I'm not playing!"
Williams' accusations come at an interesting time, considering she made headlines in March with rumors that she started dating Teodoro Ngeuma Obiang Mangue, the son of an African dictator. But Mangue and his real girlfriend, Castle actress Tamala Jones, were quick to hit back at Williams' supposed scheme.
Jones released a statement of her own on Twitter, suggesting Williams had cooked it all up for publicity!