Kenya Moore Slams Porsha Stewart's Underground Railroad Confusion, 'Incensed' Co-Star Says She 'Is An Embarrassment To Her Family'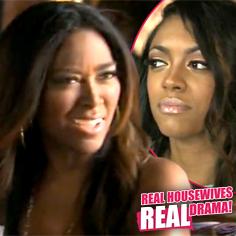 Porsha Stewart got a history lesson during Sunday's episode of The Real Housewives of Atlanta, admitting she thought the Underground Railroad was a real, physical train.
After the cringe-worthy moment aired, a disgusted Kenya Moore chastised Stewart.
"When Porsha was perplexed at how the train operated or 'who went down there first to make room because they didn't have electric trains like we do now,' I became incensed… It was crystal clear that Porsha did not know that the Underground Railroad was not a literal train!" Moore wrote on her official Bravo blog.
Article continues below advertisement
During the episode, the petite beauty was puzzled when a tour guide on a Freedom Trail tour in Savannah showed the group ventilation holes on a church floor, explaining "people crawled under to escape slavery."
Stewart didn't get it.
"There has to be an opening for the railroad at some point," she said. "Somebody is driving the train. It's not electric like what we have now."
Because Stewart's late grandfather, Hosea Williams, was a prominent civil rights activist in Atlanta, the reality star's naivety offended Moore.
"Porsha is an embarrassment to her grandfather, his legacy, her family, and most importantly, herself.
"It's easy to laugh and call her dumb, but the reality is even more painful -- WE have failed her. Our educational system has failed her, anyone who coddled her or encouraged her to focus on her makeup, weave, and shoes to find a man to take care of her rather than her education has failed her. Anyone laughing at this gross ignorance has failed her," Moore concluded.
Watch Porsha's Underground Railroad confusion below: