WATCH: Porsha Stewart Breaks Down Over Divorce, Sobs She Misses Kordell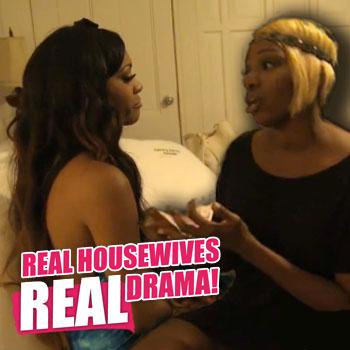 With her two-year marriage to Kordell Stewart over, Real Housewives of Atlanta star Porsha Stewart has a dramatic breakdown on Sunday's upcoming episode.
In a new preview, Porsha has moved past her Underground Railroad confusion, and has a full blown meltdown about missing her ex-husband.
NeNe Leakes tries but fails to comfort Porsha as the pair talks about what's bothering her.
"I've tried to be there to support Porsha, but our relationship is very one-sided. It's very frustrating," NeNe tells the Bravo cameras.
Article continues below advertisement
Porsha, who is clearly grieving the family she had when she was married to Kordell, sobs to her co-star. She reveals that she'd been looking at Instagram photos of her stepson Syre, so she could feel close to him again.
"I try not to talk about it because I can't get a word out. It just hurts so bad," she tells NeNe through tears.
A more composed Porsha explains to the Bravo cameras, "As much as I want to get over Kordell, being around these different women talking about children and babies, it just made me think about the family that I wanted and the family that we shared."
Watch NeNe dish out some advice in the preview video: