From Fraud Charges To Fighting! Phaedra Parks' Troubled Husband Apollo Nida Lets Loose On Kenya Moore's Assistant On 'RHOA'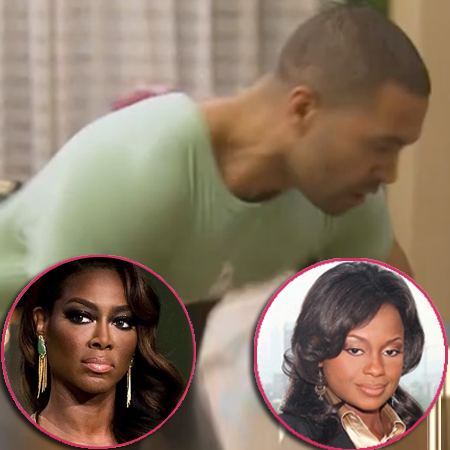 Phaedra Parks' husband Apollo Nida can't stay out of trouble!
Apollo, who, as RadarOnline.com has reported, was charged with bank fraud and identity theft last week, viciously assaulted Kenya Moore's assistant Brandon DeShazer on Sunday's episode of The Real Housewives of Atlanta.
When NeNe Leakes threw a couples' bonding party, Kenya started arguing with R & B singer Christopher Williams and his wife, Natalie. On last week's episode, Kenya had thrown shade at Natalie, saying she wasn't really married to Christopher -- and she continued to bait the couple.
Article continues below advertisement
When Natalie told Christopher that Kenya had said they were in a "common law" marriage, he insulted Kenya, asking what medication she was on.
Then, in classic housewives style, all hell broke loose! A finger-waving Kenya advanced towards Natalie, and Christopher grabbed her. That outraged Kenya's friend Brandon, who charged at Christopher. Then Apollo suddenly jumped into the fracas, getting on top of Brandon and beating him violently as Cynthia Bailey's husband Peter Thomas appeared to be holding Brandon down.
And Kenya, referring to Nida's previous five-year prison term (from 2004-2009 for racketeering), told Bravo's cameras, "Apollo is out of his mind, beating Brandon as though he's in his jail cell fighting for his virginity!"
Even Apollo's wife was shocked by his extreme actions.
"I don't know what's gotten into Apollo," Phaedra sighed, noting he has a temper but "normally keeps it in check."
After the bizarre melee, which will continue into another episode, NeNe yelled at Kenya for causing the fight.
Article continues below advertisement
"I don't control animals," Kenya snapped at the cameras about Apollo.
Watch the video on RadarOnline.com
Meanwhile, Apollo told Phaedra about Brandon, "He hit me in my private parts."
Before the fight, the couples' bonding event first got weird when Peter said he and Apollo and Kandi Burruss' fiance, Todd Tucker, all frequented strip clubs!
Although Peter insisted he never got lap dances, Kandi said she'd walked into the club herself--and had seen Peter with a girl on his lap.
"I know that he's lying," Kandi told the cameras.
Cynthia said she had no problem with Peter going to a strip club.
But Apollo caused discomfort in the group when he said, "I just came home from prison. My wife always had a concern, 'Why you always in the strip club every night?' So now it's more on a social level. I'm not ashamed of anything. I come home, I put a receipt on the table, it's like $5,000, $8,000."
Article continues below advertisement
With Phaedra looking uneasy, Apollo continued, "That's my money! I spend my money on drinks! It ain't her money."
NeNe, who was a stripper back in her 20s, had her own unique take on the topic: "I wasn't traumatized. It was all about 'bank' for me!"
When the Sunday episode began, viewers saw Phaedra planning a lavish baptism party for her and Apollo's second son, baby Dylan, known affectionately by his nickname, "Mr. President."
The party cost a bundle and featured a Presidential inauguration theme, complete with limos, dancers, a trumpet player, and fancy food and drinks.
During the party, Apollo wanted to mingle but Phaedra wanted him to dance with her.
"I'm not going to dance," Apollo huffed, so Phaedra's party planner Dwight cut a rug with her instead!
Later, Apollo complained that Phaedra wouldn't let him get something to eat.
Article continues below advertisement
After Dylan received a blessing, Phaedra made a speech -- but again, Apollo had a chip on his shoulder with his wife.
"Would you like to say something?" she asked.
"Naw, you got it," Apollo replied.
Also on Sunday's episode, Kenya and her aunt Lori visited a fertility clinic as the housewife plotted to have a baby because without kids, "my life would be incomplete," Kenya told the cameras.
"I'm over 40, I'm dating a man who is in Africa and the clock is ticking."
The doctor told Kenya her ovaries had diminished capacity and Kenya started to cry.
She wanted a child with her own DNA, not a donor egg, and still thought it was possible.
Kenya said she had to have a back up plan to her African boyfriend, so she paid a visit to Atlanta's Xytex corporation, a sperm bank.
Watch the video on RadarOnline.com
"Do you happen to have Michael Jordan's sperm? What about Obama?" Kenya asked the owners, adding that her donor would have to be intelligent, funny, affectionate, well groomed, no body odor, over 6'4, with green eyes.
"Wait, I'm not done!" the RHOA princess shouted.