'Unexplained & Sudden': Officials Say No Drugs Found At Peaches Geldof Home, Plus More Developments In Socialite's Tragic Death At 25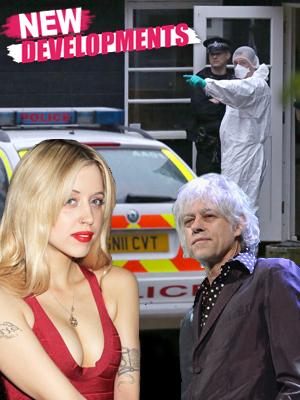 We've got all of Tuesday's latest developments in what authorities are calling the "unexplained and sudden" death of Peaches Geldof at just 25, right here on RadarOnline.com.
'No Drugs'
Police, squashing rampant media speculation, said no drugs were recovered at the socialite's home, nor a suicide note. The mother-of-two -- her young sons Astala Dylan Willow and Phaedra Bloom Forever are 23 months and 11 months, respectively -- had no physical marks on her person, officials said. The U.K. Sun reported that coroner's officials are examining whether the premature death can be attributed to natural causes.
Article continues below advertisement
Watch the video on RadarOnline.com
Last Public Sighting, Social Media Correspondence
Geldof's last foray into the limelight came at a London fashion show earlier this month for Tesco's F&F brand. On Sunday between 5:58 PM and 6:17 PM local time, Geldof posted seven shots of her family to her Instagram, four of her infant son Phaedra, the last one of she and her late mother Paula Yates, titled, "Me and my mum."
The Life & Times Of Peaches Geldof — In Photos
The Last Interview
Geldof, in her last interview, vowed to be a committed mother to her two sons, words that rang especially powerful after her mother's drug overdose death in 2000. "I am not about to let them down, not for anyone or anything," she told Mother & Baby in the chat, which was centered on the attachment parenting craze she had fully embraced. She said that her newfound parenthood gave her a strong sense of identity. "Becoming a mother was like becoming me, finally. After years of struggling to know myself, feeling lost at sea, rudderless and troubled, having babies through which to correct the multiple mistakes of my own traumatic childhood was beyond healing. I felt finally anchored in place, with lives that literally depend on me, and I am not about to let them down, not for anyone or anything."
Article continues below advertisement
Watch the video on RadarOnline.com
'Beyond Pain'
The late model's famous father Bob Geldof issued a statement on behalf of the family, saying, "Peaches has died. We are beyond pain. She was the wildest, funniest, cleverest, wittiest and the most bonkers of all of us. Writing 'was' destroys me afresh. What a beautiful child. How is this possible that we will not see her again? How is that bearable? We loved her and will cherish her forever." The latter was signed by Bob, Jeanne, Fifi, Pixie and Tiger Geldof. As we previously reported, the English fashionista was found at her home in Wrotham, Kent Monday.
We'll keep you updated on the latest in this story, right here on Radar.