Parent Or Puppeteer? Kate Gosselin Does Most Of The Talking For Twin Teens In Uncomfortable 'TODAY' Interview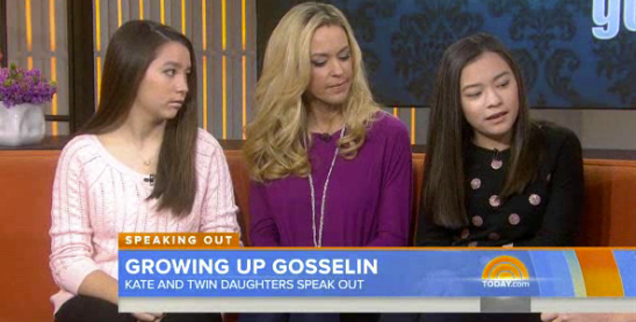 Was it stage fright, or were they forced to appear in the first place?
Kate Gosselin appeared on the TODAY show with her now-teenage daughters Mady and Cara, where the girls' reluctance to speak -- and forced, brief answers when they did -- were followed by their mother acting as their mouthpiece, complete with canned answers.
The appearance comes just a day after the girls' father, Jon, claimed that Kate exerts such rigid control over her brood, they "can't breathe the wrong way without upsetting her!"
Article continues below advertisement
Thursday's appearance did little to dissuade such a notion, as the twin girls, 13, had to be prodded by their mother when host Savannah Guthrie asked them questions as innocuous as "How are you doing?"
When the girls had trouble answering, mama Kate jumped in with the zeal of a Hollywood publicist doing damage control.
"So this is their chance to talk, this is the most wordless I've heard them all morning -- I don't want to speak for them but, Mady, go ahead -- sort of the things that you said in a recent People magazine piece, that years later they're good, they're fine. Go for it Mad, it's your chance."
A squeamish Mady said, "No, you just said it."
Asked about why they felt needed to speak to a national magazine to clear up any misconceptions, the girls awkwardly parried over answers, before mama Kate again jumped in to put the polish on things.
"They're more aware of what is out there, the inaccuracies, things that are said by the general public, their father, whoever in general because their friends talk about it at school. So I sort of am forced to kind of inform them," Kate said. "And I think the most upset -- we talk about it a lot and the most upset they are is because they get really frustrated that people assume certain things in our house and they always say, 'But that's not how it is, mommy. Why do they say that about us?'"
Article continues below advertisement
Guthrie, thinking on her feet, turned the tables on Kate to an extent, asking her, "To have the girls come out here, do a big article and come to national TV and put them on the spot like that, does that help or does that continued exposure continue the injury to them?"
Kate responded, "I mean, there is no injury to begin with. Any TV things that we do, I can't get them to do at this age, 13, anything that they don't want to do, as with any parent. It's not like I forced them to do it. It was like, 'Hey, the TODAY show with People magazine asked to us do it, how do you feel about it?' as I do with my 9-year-olds.
Watch the video on RadarOnline.com
"It's a family decision. It's really frustrating when there's so much out there that's not true. I'm getting to the point that I'm extremely frustrated. I don't spend time worrying about it because I'm busy raising my kids and we know they're here, even though they're tongue tied this morning to say we're OK, we're doing well. Would that be accurate to say?
The girls agreed, saying they would like to do another show in the future.
After the cringeworthy appearance, Kate addressed her daughters' silence, writing, "Thanks to @TODAYshow for having Cara, Mady and me on the show today! 1st live interview can render even the gabbiest girls speechless :)"