Kate Gosselin Wants A New Show With Kids, Says Ex-Jon: 'I Consider That Exploitation'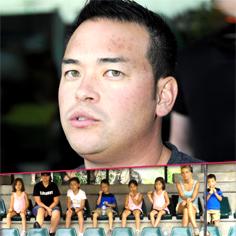 Jon Gosselin is calling out ex-wife Kate, saying he believes she's exploiting their eight children for financial gain, and to regain her relevancy, and we've got all the details for you right here on RadarOnline.com.
"She uses them as her props," the single dad groused to InTouch. "It's a problem for her that she can't afford her old lifestyle anymore."
"I think she wants a show on TV again -- I consider that exploitation."
Article continues below advertisement
An insider told the magazine that Jon's premonitions are on the mark, as the 38-year-old mother-of-eight "didn't think she would end up like this; Ever since she got divorced and her show failed, Kate has been struggling financially and emotionally."
Jon said his children have been "upset" and "embarrassed" by Kate's mad dash to see her name in lights.
"A lot of them do not want to film, and they come to me and tell me that," he said. "They are enjoying having an ordinary childhood rather than being filmed all the time, and now they realize that it made them feel different."
The former Ed Hardy poster boy said that his children "shy away from cameras, and I don't think that is normal.
"Developmentally, they have problems with their peers, and they have problems with talking to other people, and their problems with wants and needs and manners and morals and what's right and what's wrong," he said. "I think some more so than someone who grows up off TV."
Jon said that despite the toll its taking on the kids, Kate will continue the full court press to get a new show because "she has to stay relevant.
"It's her pride. She wants to prove to everyone that she's still got it."