Jon Gosselin's Endorsement Killed Ed Hardy Brand, Says Ed Hardy!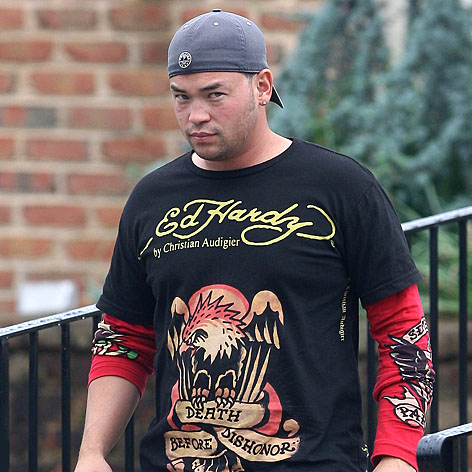 Jon Gosselin has the Midas touch - in reverse!
Far from turning what he touches to gold, the reality star's endorsement of Ed Hardy clothing killed the Ed Hardy brand. Who says? None other than Ed Hardy!
Shortly after splitting from Kate Gosselin, Jon struck up a friendship with Christian Audigier, who licensed Hardy's art for shirts and a host of other products.
Audigier, who is described as celebrity obsessed by Hardy, entertained Jon and his then-girlfriend Hailey Glassman in St. Tropez on his yacht.
Article continues below advertisement
Jon was repeatedly photographed wearing Ed Hardy clothing and that association was deadly for the brand, Hardy recently told the New York Post.
"That Jon Gosselin thing was the nail in the coffin," Hardy said. "That's what tanked it. Macy's used to have a huge window display with Ed Hardy, and it filtered down and that's why Macy's dropped the brand."
Jon's repulsive powers proved greater than stars including Madonna sporting the brand years ago.
Hardy, 68, puts much of the blame on Audigier, a French businessman.
"Christian worships celebrities so much, he will get next to anyone who is famous for anything. If he could have gotten Charles Manson in a shirt, he would have," Hardy told the Post.
Jon's brand-killing powers were at their peak during his trip to France with Hailey. On July 13, 2009 RadarOnline.com reported that Jon and Hailey were spotted holding hands in St. Tropez in the French Riviera... Jon, a fan of the Ed Hardy clothing line, and Glassman even went for a ride on the yacht of fashion designer and Ed Hardy exec Christian Audigier."
Article continues below advertisement
There was even talk of Jon or Hailey scoring their own fashion line!
While Jon-killed-my-brand is an interesting sidelight to Hardy's promotion of his memoir, "Wear your Dreams: My Life in Tattoos," the former reality TV star is about to be forced to relive that time in his life.
Kate Gosselin is preparing to launch a lawsuit against Jon and his pal Robert Hoffman, as RadarOnline.com reported.
Hoffman wrote a scathing e-book on Kate, and has admitted to pulling material contained on her computer out of her trash.
But text messages recently indicated that Jon and Robert plotted together to nab Kate's computer material and profit from it.