Oscar's 7 Best Moments: J.Law Falls, Travolta Trips & A Pizza Boy Gets His 15 Minutes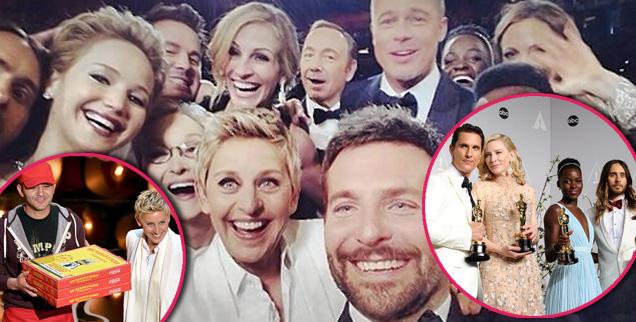 The 86th annual Academy Awards were a memorable one Sunday, as Hollywood's crème de la crème, led by host Ellen DeGeneres, didn't fail to jam pack the evening with memorable moments, and we've got a recap of them all for you right here on RadarOnline.com.
1. And The Winner Is ...
While there weren't any huge surprises, in that most of the favored nominees won, that lot included plenty of compelling backstories. The film 12 Years a Slave took home the best picture award, while longtime A-lister Matthew McConaughey had a defining moment in his storied career with his best actor win for Dallas Buyers Club, and Australian actress Cate Blanchett, who previously captured the Best Supporting Actress honors for The Aviator, took home the best actress award for Blue Jasmine. Lupita Nyong'o (12 Years a Slave) and Jared Leto (Dallas Buyers Club) came streaking into the show with white hot buzz, and both made good on the hype, getting the best supporting actress and actor honors, respectively.
Article continues below advertisement
radar_embed service=5min.com src="http://pshared.5min.com/Scripts/PlayerSeed.js?sid=1126&width=570&height=351&playList=518142815"
2. Legends Of The Fall
Jennifer Lawrence's career is nothing to laugh at, but her red carpet missteps have the Benny Hill theme written all over them. The 23-year-old star of The Hunger Games tripped and fell at the Academy Awards for the second consecutive year, this time taking a dive on the red carpet while struggling to stay upright in her red Dior gown. Lawrence had a sense of humor about the embarrassing case of déjà vu, and DeGeneres joked about the American Hustle star's bad balance during the show telling the Kentucky native, "If you win tonight, I think we should bring you the Oscar."
radar_embed service=5min.com src="http://pshared.5min.com/Scripts/PlayerSeed.js?sid=1126&width=570&height=351&playList=518142836"
3. Ensemble Cast
The social media-savvy DeGeneres used the alignment of the stars to shatter Twitter records with the most star-packed selfie ever, sending out a group pic from her account @TheEllenShow that featured Brad Pitt, Julia Roberts, Meryl Streep, Kevin Spacey, Lawrence and Bradley Cooper, who took the shot. Within 35 minutes, the image racked up a record 1.3 million retweets, nearly lapping the previous record-holder (President Barack Obama's celebratory re-election tweet).
Article continues below advertisement
radar_embed service=5min.com src="http://pshared.5min.com/Scripts/PlayerSeed.js?sid=1126&width=570&height=351&playList=518142869"
4. Lost Treasures Of LaLa Land
The recent, and premature, deaths of Paul Walker and Philip Seymour Hoffman made for an extra emotional memorial Sunday, and Bette Midler added to the wet eyes and goosebumps with a rousing rendition of her classic, "Wind Beneath My Wings." Other notable personalities honored in the tribute included James Gandolfini, Shirley Temple and Roger Ebert.
5. A Star Is Born, Hold The Anchovies
A pizza deliveryman from Big Mama's & Papa's Pizzeria in Los Angeles will NEVER have a story to top his day Sunday, as DeGeneres brought him right on the stage in a bit which she distributed slices to the rich and famous in attendance, such as Kerry Washington, Jamie Foxx, Martin Scorsese and Pitt. While the name of the delivery driver had not come to light early Monday, it's a virtual guarantee he'll be the darling of talk show hosts, media pundits and the like over the next few days.
Article continues below advertisement
6. Making A Statement
Like many in Oscar lore, Leto used his crowing moment to spread awareness of a cause he found dear, in his case, the current anti-government demonstrations in the Ukraine and Venezuela. The long-haired hunk, accepting his hardware for best supporting actor, said in his speech, "To all of the dreamers out there around the world watching this tonight, in places like the Ukraine and Venezuela, I want to say, 'We are here.' As you struggle to make your dreams happen, to live the impossible, we're thinking of you tonight."
7. Oops!
John Travolta might really need to de-stress with a massage Monday, after what was an undoubtedly uncomfortable Sunday after he butchered the pronunciation of Broadway singer Idina Menzel's name, introducing her as Adela Dazeem when the singer took the stage to perform "Let It Go" from the Disney's Frozen. Of course, social media snarks were all over the A-lister's case for the flub, as one even set up a Twitter account under the @adeladazeem handle, and got more than 10,000 followers in a matter of moments.
Watch the video on RadarOnline.com