Oscar Pistorius Murder Trial: Paralympian Had 'Love' Of Guns, Went Into 'Combat Mode' After Paranoid Mistake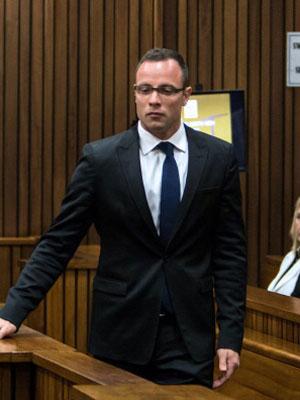 Day 11 of the Oscar Pistorius murder trial focused on the paralympian's paranoia-powered predilection for firepower, as a local firearms expert testified to the Olympic runner's "great love and enthusiasm" for guns.
The double-amputee athlete -- accused in the premeditated killing of girlfriend Reeva Steenkamp on Feb. 13, 2013 -- went into "combat mode" after mistaking noise made by a washer-dryer for a home invader, according to Sean Rens of the International Firearm Training Academy.
Article continues below advertisement
Rens -- a manager at the Walkerville town, South Africa establishment -- said he had a number of conversations with Pistorius over the last two years, as the wealthy athlete looked to build up an arsenal of weapons for the dual purpose of collecting' and protecting his home. Rens said Pistorius described to him one Nov. 2012 incident in which he heard a noise at home, drew his gun, and checked each room of his abode for intruders.
The expert said of Pistorius' mental state at the time of the incident: "He went into what we call 'Code red' or 'combat mode.' When he came to the source of the noise, it was the laundry or something."
Watch the video on RadarOnline.com
MORE ON:
Celebrity Justice
Pistorius himself tweeted about the scare, according to the AP, writing "Nothing like getting home to hear the washing machine on and thinking its an intruder to go into full combat recon mode into the pantry!"
Article continues below advertisement
Rens told prosectors he'd trained the runner only to fire his weapon if an armed person was moving in on him, which prosectors clarified was not the case in the Steenkamp shooting, in which Pistorius claims he shot at a door thinking an intruder was on the other side.
Elsewhere Monday, photographic evidence of items recovered from the athlete's bedroom, where the fatal shooting occurred, included a box with a substance called Testis compositum, purportedly a booster for both sexual energy and weariness; a substance called Coenzyme compositum; and packs of syringes.
As we previously reported, should Pistorius be convicted of premeditated murder, he could be sentenced up to life with a 25-year minimum sentence. If convicted of murder, he could face up to 15 years behind bars.
With no jury trials in South Africa, Pistorius' fate rests in the hands of the presiding judge. In South Africa, where Pistorius had been acknowledged as a sports superstar, the legal proceedings have been dubbed "the trial of the century," the same moniker media pundits in the states referred to the O.J. Simpson trial as in the mid-90s.