Oscar Pistorius Murder Trial: Graphic Shooting Scene Shots Of Paralympian Exposed In Court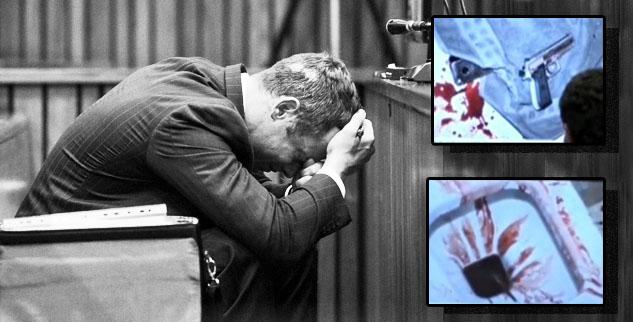 In the tenth day of the Oscar Pistorius murder trial Friday, prosecutors showed off a series of images of the Olympic runner drenched in blood in the aftermath of his fatal shooting of girlfriend Reeva Steenkamp on Feb. 14, 2014.
In the images -- which were displayed on TV monitors in South Africa's Pretoria Magistrate's Court -- Pistorius is looking directly at the camera in shorts with no shirt while wearing his prosthetic legs, with noticeable splotches of blood on his stumps and the shorts he was wearing. The pictures were taken in the Paralympian's garage within hours of the shooting.
Article continues below advertisement
Ex police colonel G.S. van Rensburg said that while he didn't arrest the "Blade Runner" in the hours following the shooting, he informed the athlete, 27, he was a "suspect at that stage" of the investigation.
"I warned him of his rights. I said to him I wasn't arresting him at that stage ... I requested him to remain present at all times at the scene, " van Rensburg said.
Van Rensburg said he was "very angry" at one point in the initial investigation of the home when he observed a firearms expert brought in handling the gun without gloves.
"I asked him, 'What are you doing?'" van Rensburg told the court.
Following up on Thursday's testimony, van Rensburg said he told officers on the scene to pay extra special attention to a box of eight pricey watches -- one of them alone was valued at $10,000 -- in Pistorius' room so they couldn't be swiped; he said that he let Pistorius' sister take one, but when another one turned up missing, he had all forensics investigators frisked, and checked out their belongings.
Article continues below advertisement
Van Rensburg said another went missing while he was out of the room, prompting him to order the frisking of all the police forensic experts on the scene, as well as a search of their bags and vehicles, and the entire house.
Pistorius' brother then requested to take the entire box of watches, but van Rensburg at that point instituted a chain of command that the siblings would have to get the watches from the Olympian himself, while police would keep the blood-stained box they were being stored in.
As we previously reported, should Pistorius be convicted of premeditated murder, he could be sentenced up to life with a 25-year minimum sentence. If convicted of murder, he could face up to 15 years behind bars. With no jury trials in South Africa, Pistorius' fate rests in the hands of the presiding judge.
In South Africa, where Pistorius had been acknowledged as a sports superstar, the legal proceedings have been dubbed "the trial of the century," the same moniker media pundits in the states referred to the O.J. Simpson trial as in the mid-90s.