Oscar Pistorius Trial: Olympian Begins 30-Day Psychiatric Evaluation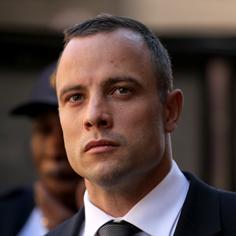 Oscar Pistorius commenced with the 30-day psychiatric evaluation the court requested in his ongoing murder trial in the fatal shooting of girlfriend Reeva Steenkamp, checking into Pretoria, South Africa's Weskoppies Psychiatric Hospital Monday.
Pistorius was chatting on a cell phone as a passenger in a black sedan that entered through a media blitz upon the premises grounds, where psychiatric professionals will analyze him seven hours daily, from 9 a.m. to 4 p.m.; the accused murderer, who is out on bail, will not have to report to the facility on weekends as part of his outpatient regimen.
Article continues below advertisement
As we previously reported, Judge Thokozile Masipa earlier this month agreed to the prosecutors' requests for the assessment of the double-amputee runner –- known as "Blade Runner" for his prosthetic legs –- after forensic psychiatrist Dr. Merryll Vorster testified that Pistorius' upbringing, including the amputation of his legs when he was an infant, added to a heightened sense of anxiety.
Watch the video on RadarOnline.com
ABC US News | ABC International News
Should Pistorius be convicted of premeditated murder, he could be sentenced up to life with a 25-year minimum sentence. If convicted of murder, he could face up to 15 years in custody.
The trial is slated to reconvene June 30.