Oscar Pistorius Trial: Laser Beam Demonstration Of Bullet Paths That Killed Reeva Steenkamp Causes Judge To Leave The Bench To Watch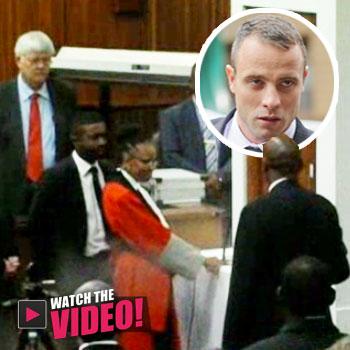 Oscar Pistorius rubbed his eyes and held his head in court on Friday as the judge made an unprecedented move in the murder trial of Reeva Steenkamp during another shocking day of testimony.
As the Blade Runner watched, the judge left the bench and walked to observe a laser beam presentation showing the bullet trajectories that killed his girlfriendon Valentine's Day in 2013.
In a video from the TODAY show, NBC national investigative correspondent Jeff Rossen showed the demonstration that occurred after the defense claimed that "based on injuries and the bullet pattern there is just no way," that the crime happened the way the prosecution claims.
Article continues below advertisement
"May I invite the court to observe," the prosecutor countered, and the Judge left the bench, escorted by a security guard holding her hand to stand near the bathroom set that was built in the courtroom.
"The prosecution sprayed chemicals to illuminate the laser beams tracking the trajectory of the 4 bullets through the door," Rossen reported.
Separately, NBC interviewed officials who said that should he be jailed, Pistorius' prosthetic legs pose a security risk.
If he is permitted to wear the metal ones other inmates may "sharpen them and using them as knives," and if he wears the plastic ones the inmates could "use them as a club."
Visit NBCNews.com for breaking news, world news, and news about the economy