Oscar Pistorius Trial: 'Heartbroken' Blade Runner 'Cried 80 Percent Of The Time' In Post-Shooting Consulting Session, Social Worker Testifies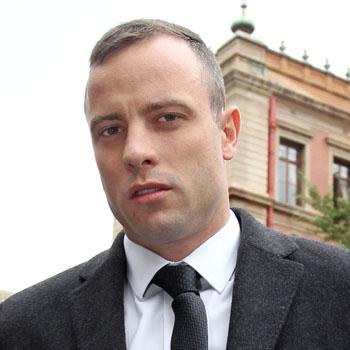 A social worker who spoke with Oscar Pistorius the day after he fatally shot Reeva Steenkamp said that the 27-year-old runner was "a heartbroken man" in the wake of the shooting.
"He cried 80 percent of the time; he talked to me about what they planned for the future, his future with her," social worker Yvette van Schalkwyk testified at South Africa's Pretoria court Thursday, adding that she was compelled to take the stand after reports surfaced that double-amputee runner's courtroom outbursts were the result of acting lessons, as opposed to genuine emotion.
Article continues below advertisement
Also testifying Thursday was an anesthetist, Prof. Aina Christina Lundgren, in regards to a claim by the athlete that he and the model-reality star Steenkamp had dinner eight hours before the shooting.
According to Lundgren, Steenkamp still had food in her stomach at the time of the shooting -- which puts the Pistorius version of the story in conflict — as according to a separate expert's testimony, it takes about six hours for the stomach to be free of food.
Watch the video on RadarOnline.com
Visit NBCNews.com for breaking news, world news, and news about the economy
As we previously reported, should Pistorius be convicted of premeditated murder, he could be sentenced up to life with a 25-year minimum sentence. If convicted of murder, he could face up to 15 years in custody.