Oscar Pistorius Murder Trial: Blade Runner Cowers In Courtroom As Lawyer Claims His Girlfriend Had 'Brain Damage' & Couldn't Scream After Being Shot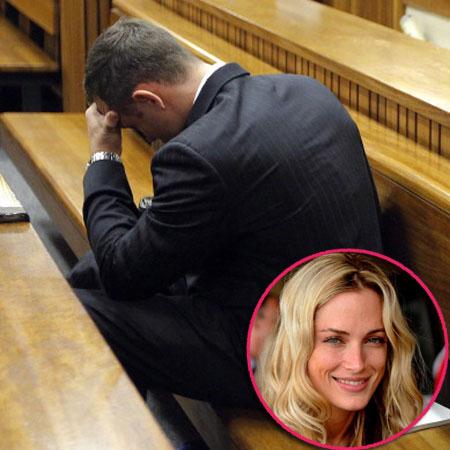 Article continues below advertisement
Pistorius' neighbor, Michelle Berger, claims that she heard a woman screaming and then heard four shots, but it was his own defense attorney's words that caused him to recoil in grief.
"We will have experts state that there was serious brain damage after the shot to the head, that it would not have been possible for her to scream at all.
"With the head shot, she would have dropped down immediately," his lawyer Barry Roux said as Pistorius bent over and put his hands over his head.
Steenkamp's mother, June, has spoken out about the excruciating loss of her daughter, telling the TODAY Show that even though she is in the courtroom every day, nothing will bring back her daughter.
"I'm going to depend on the justice system that we get justice and we get answers, and I've got confidence in that," she told Savannah Guthrie.
"It doesn't matter what happens to Oscar because my daughter is never coming back, and it's not going to change anything as far as that goes. We just want the truth. We want the truth of what happened. Only she and Oscar were there, and she's not here anymore.... I don't wish him any harm. I just want the truth."