Oscar Pistorius Murder Trial: Forensic Expert Says Athlete WAS On Stumps In Shooting, Demonstrates Possible Sequence Of Events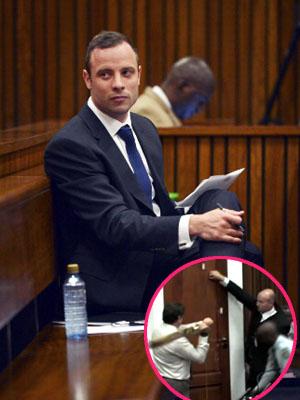 In the eighth day of the Oscar Pistorius murder trial, a veteran forensic investigator testified he believed that the double-amputee Olympian was on his stumps when he fired his gun; and later, personally hacked away at the door the runner bashed through with girlfriend Reeva Steenkamp lying dead on the other side.
Col. J.G. Vermeulen on Wednesday, taking the stand in South Africa's Pretoria Magistrate's Court, said "the marks on the door are consistent with him being in a natural position without his prostheses."
Article continues below advertisement
At one point, Vermeulen got on his knees and physically mimicked Pistorius' possible chain of actions after he shot through the bathroom door, then used a cricket bat to smash it open. Both the actual door -- riddled with bullet holes -- and bat were brought into the court for the demonstration.
Pistorius' lawyer Barry Roux said that the paralympian had his prosthetics on, and his back bent, at the time he hit the door. (The issue over the prosthetics ties into Pistorius' story regarding what he claims was an accidental shooting; as well as a gauge of how honest he's been regarding the incident.)
Watch the video on RadarOnline.com
ABC Entertainment News | ABC Business News
As we previously reported, should Pistorius be convicted of premeditated murder, he could be sentenced up to life with a 25-year minimum sentence. If convicted of murder, he could face up to 15 years behind bars. With no jury trials in South Africa, Pistorius' fate rests in the hands of the presiding judge.