Oscar Pistorius Murder Trial: 'Blade Runner' Flinches At Prosecutor's Death Photo Of Late Girlfriend Reeva Steenkamp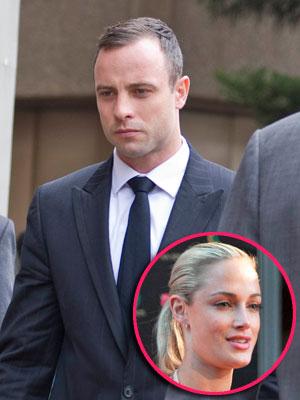 Oscar Pistorius, testifying in his murder trial in South Africa's Pretoria court, looked away when prosecutor Gerrie Nel asked him to stare at a death photo of girlfriend Reeva Steenkamp -- and her "exploded" head -- during Wednesday's proceedings.
"It's time that you look at it," the prosecutor told Pistorius, 27, in his first grilling of the superstar runner.
Pistorius turned his head away from the grisly image, which was taken from the side after the stunning model was shot Feb. 14, 2013, showing pools of blood and body parts.
Article continues below advertisement
"I remember … I will not look at a picture where I'm tormented by what I saw and felt that night," Pistorius said in response. "As I picked Reeva up, my fingers touched her head. I remember.
"I don't have to look at a picture, I was there."
Nel's contentious grilling of the double-amputee runner included a sequence in which pressed the athlete to admit he killed the 29-year-old, which Pistorius categorized as "mistake."
Nel responded, "You killed her; you shot and killed her," then asked, in vain, the runner to repeat those words.
"I did," Pistorius said in response.
Asked if he lived by Christian tenets, Pistorius said, "I'm here to tell the truth, I'm here to tell the truth as much as I can remember -- I'm human; I have sins."
Judge Thokozile Masipa permitted Nel to display a number of pieces of evidence illustrating the runner's infatuation with firearms, including a video of him shooting up a watermelon with a .50-caliber handgun, which he jokingly referred to in the clip as a "zombie stopper."
Article continues below advertisement
Nel boldly compared the watermelon shooting to the Steenkamp killing, asking Pistorius, "You know the same happened to Reeva's head? It exploded."
A weeping Pistorius acknowledged that he was present on the fateful day and knew the consequences of the shooting.
Watch the video on RadarOnline.com
MORE ON:
Celebrity Justice