'No Evidence' That Travis Alexander Owned A Gun, Reveals Detective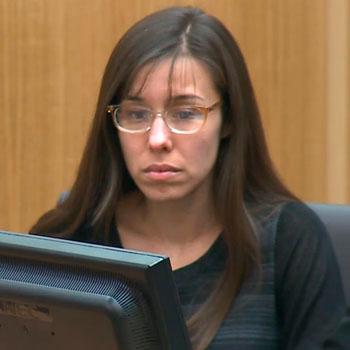 The testimony in the Jodi Arias death murder trial came out of the closet on Wednesday afternoon, as Detective Esteban Flores contested the story that the defendant told regarding finding a gun in Travis Alexander's cupboard months before the killing, and then running to grab it to protect herself when he allegedly attacked her on June 4, 2008, RadarOnline.com is reporting.
No holster, gun case or gun-cleaning kits were in Alexander's house, Flores told the Maricopa County Court, reported Michael Kiefer of the Arizona Republic, as prosecutor Juan Martinez brought out photos from inside the victim's huge closet to show the pins that held up the shelves that Arias claimed she stood on to reach a gun kept on the top level.
Article continues below advertisement
The bulldog prosecutor then showed the jury a photo of the light free-floating shelf, which was about seven feet from the floor, tipping forward when he placed his hand on the outer edge.
"We found nothing (in the attic)," the detective went on to say in response to the jury question about Jodi having had claimed she helped Travis store things up there, leading her to stumble upon the gun.
"If it was a light object I suppose you could put something there," he said, adding that he couldn't tell if there had been anything ever stored there. The opening to the attic is in the closet area, he added.
Keen to clear up all technical details, he was asked if he knew the "weight, height and shoe size" of Jodi, to which he replied, "She was about 5'5" or 5'6" and 115 to 120 pounds."
There was no evidence that Travis or his roommates owned guns, Flores told the court, and no registration is needed in Arizona – meaning that someone could legally own a gun and no one would know.
After 52 days of testimony, Judge Sherry Stephens told the exhausted members of the court that the end is almost near, as she revealed that "on May 1 we will start at 9 a.m. and we are going to stay here until we finish. Final jury instructions will be read on Thursday, May 2 and the attorneys will give their closing arguments on Thursday and Friday."