Nicole Kidman Slams Tom Cruise Marriage, Declares She's 'Happy' Now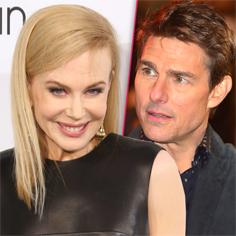 Nicole Kidman has said that she never felt comfortable in her marriage to Tom Cruise but more than 10 years have passed since their split and she slammed her ex in a new interview, saying she is "happy" now that the relationship is over.
Their A-list Hollywood marriage ended in 2001, and Nicole says that she used to have a "fantasy life" that was better than her reality, but that is no longer the case.
Article continues below advertisement
Asked by Australia's The Border Mail if she is happy since her divorce she said "Yes," and explained why to the paper.
"Happy in the sense that I have my girls and my husband and I have a very, very strong real life to counter-balance my fantasy life now," the 46-year-old said about her life with Keith Urban and their daughters, Sunday and Faith, without mentioning her two children with Tom, Isabella and Connor Cruise.
She was famously estranged from them after the divorce and leaving Scientology, but has slowly repaired the relationship with them.
Nicole, now starring in the new movie Stoker, explained her unhappiness, and said that she has a new way to handle her life.
"My fantasy life used to outweigh that more and now I've kind of balanced it, which is a lot healthier," she says.
According to the paper, Nicole's publicist ended the interview after those questions, but Nicole continued touting her happiness, grinning and telling the reporter "I smile now!"