Nicki Minaj: My Feud With Mariah Carey Is Real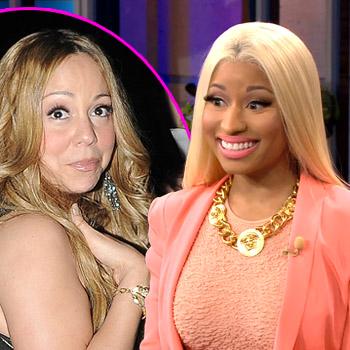 American Idol's Nicki Minaj - appearing on The Tonight Show with Jay Leno Monday - is once again saying her feud with Mariah Carey is indeed real, and not show biz schtick.
"It definitely isn't a fake feud," she said.
PHOTO: Nicki Minaj Has Onstage Wardrobe Malfunction
The Moment 4 Life singer -- calling herself one of Mariah's "biggest fans in the world" -- explained the dynamic in her rivalry with Mariah: "A lot of it just starts out us joking, but we're passionate, we're both crazy … and then sometimes it just goes, 'Roar,' and you can't really stop it.
Article continues below advertisement
"It's just one of those weird things, you gotta see it to get it," the New Yorker said of her clash with the Grammy-winning singer.
Nicki, whose real name is Onika Tanya Maraj, reminded Leno how he's been in a public "feud before" (Conan? Jimmy? Dave?); with that, she asked the grizzled late night host how to handle a public rivalry.
"I just ignore it," Leno said. "Let the other people feud. You're a musician, you do what you do. We just do our show. I don't say bad things about anybody. People do what they do."
Watch the video on RadarOnline.com
As we previously reported, the Super Bass singer exploded on Mariah during the show's October auditions in North Carolina, when she declared, "I'm not f***ing putting up with her highness over there -- figure it the f*** out, figure it out."
The feud escalated to frightening proportions after Nicki allegedly threatened to pull a gun the Vision of Love singer, a claim Nicki dubbed a "fabrication."
American Idol's 12th season begins Wednesday and Thursday on Fox at 8/7c.