'Watch What Happens Live': NeNe Leakes Says Porsha Stewart 'Has A Lot To Learn'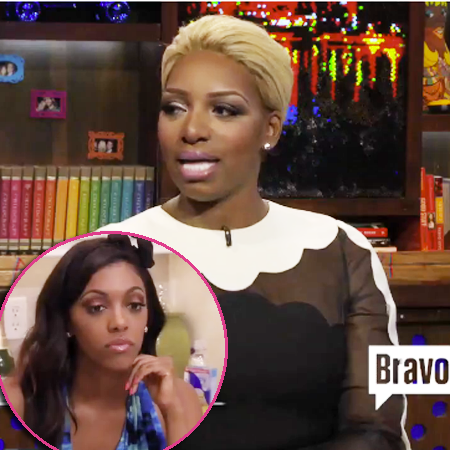 NeNe Leakes is throwing some major shade at her The Real Housewives of Atlanta co-star Porsha Stewart!
After Sunday's episode of RHOA aired, in which Leakes was furious to find out Stewart had moved into her neighborhood without even telling her -- and called her a "bad friend" -- the reality TV diva elaborated to Watch What Happens Live host Andy Cohen.
"Being a friend is not a one-way street. I can't just always be there for you and you never be there for me. It's just not cool," Leakes said about Stewart. "I hate friends that are always pulling and taking from you and never give. I think Porsha's great, but she just has a lot to learn."
Article continues below advertisement
Stewart has been front and center on RHOA this season with her messy divorce from football player Kordell Stewart and new single life being explored. She raised eyebrows by buying an 8,000 sq. foot Atlanta home for herself.
When a Watch What Happens Live fan asked Leakes if she had any advice for Stewart, she laughed, "I've had so much advice for Porsha over this whole divorce thing, so I don't have any more to give. I'm going to need somebody to give ME some advice. But I think Porsha's doing fine now."
Leakes isn't such a big fan of another co-star, Kenya Moore.
When asked about Moore's mysterious African boyfriend, who allegedly bought her a Bentley, Leakes just chuckled in apparent disbelief to Bravo's Cohen.
She later implied Moore would be nothing without her, saying, "Every episode Kenya talks about me. I get why, honey. I get why!"
And when asked why she refuses to be in Kandi Burruss' upcoming play about her life, Leakes said, "I don't think I'm too good to be in Kandi's play.
Article continues below advertisement
"What I said -- and I'll say it again -- when you get to a certain place in your career, you don't have to take every job that's being offered to you. So I'm in a place now where I can sift through things. I don't have to take everything.
"I passed on so many things because everything isn't good for me or good for my career so in order for Kandi and I to stay where we are, it's best we not work together," she slyly said.
Incredibly, however, Leakes said she had no opinion on Burruss' meddling mother, Mama Joyce!
But she told Cohen that co-star Cynthia Bailey is her bestie -- even though she recently made her cry on the show with comments about her parenting of daughter Noelle.
"Cynthia and I talk several times a day, almost every day so we're friends on and off screen," she said.
Of Bailey and her husband Peter Thomas' recent marital strife, Leakes commented, "It's their problem. Everybody's marriage is different and Peter's outspoken and Cynthia's a little bit more mild-mannered. I think Cynthia can handle him, though."
Leakes said she has been in touch with another co-star, Kim Zolciak, who recently gave birth to twins.
Watch the video on RadarOnline.com
"I texted with Kim and congratulated her and she's texted with me and all those things. I've been meaning to get over to her house and drop off some Pampers. I know that she needs them."
Cohen wondered if Leakes would like Zolciak to ever return to RHOA.
"I'm not against Kim returning to The Real Housewives of Atlanta as long as she's willing to work," she told Cohen. Oh, snap!