'Girl, Goodbye!' NeNe Leakes Implies Cynthia Bailey Should Be Axed From 'RHOA,' As She Claims 'Delusional' Kenya Moore 'Brings Great Drama' To The Show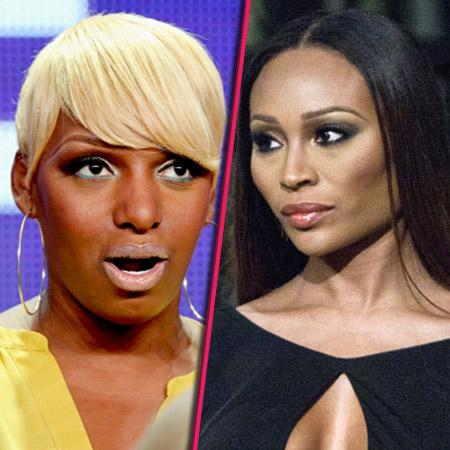 NeNe Leakes implied her Real Housewives of Atlanta co-star and former close friend Cynthia Bailey should be axed from the hit Bravo reality show -- while diva Kenya Moore should stay!
That was the casting bombshell on Sunday night's Watch What Happens Live, when Leakes discussed the season with host Andy Cohen following the RHOA finale.
When asked who should get chopped from the show, Leakes first said she'd get in trouble for giving her opinion—and told Cohen she'd tell him off camera.
Article continues below advertisement
But when Cohen suggested Moore, Leakes said no way!
"You can ask anybody that knows me, I personally do not like Kenya but I am all for the good of the show… and I think she is good for the show because she's drama. She doesn't take her medication before shooting," smirked Leakes, 46.
"If I was the creator of the show, I would have a ding dong like Kenya on the show. She brings great drama. I think she's delusional. I think her medication is much needed."
Faked Scenes, Lies & Payoffs – The Ultimate Guide To Reality TV Shows
Then Leakes hinted that it was time for the "balanced" person on RHOA "to be gone and there should be another balance to pop in. I've been on the show a very long time and I don't think it's fair when one person gets to tell all this about their story and their children and their husband and their life and somebody else is over here holding back or pretending to have a life that they don't have."
Article continues below advertisement
The RHOA alpha dog added, "People that do the show season to season and talk about the same thing over and over and over again, it's like, 'Girl, goodbye!' "
Cohen said it sounded like she was talking about Bailey, and Leakes replied, "I would have to say-- I didn't bring Cynthia's name up, you did--Cynthia is okay. It's not like she's really bringing anything to the show. Just to be honest, she talks about the Bailey agency and Bar One. It's not like she and husband Peter Thomas are really talking about anything.
"I think Cynthia's a good friend but she blows wherever the wind blows." Then Leakes, said with disgust, again, "Girl, bye!"
When Cohen probed deeper about how their friendship had faltered, Leakes said, "Cynthia was my friend. That's what I thought.
"When you have a friend and they do something wrong and something you don't like, I don't think you align yourself with the enemy. I think you stick with your friend and say, 'Look, we were friends. I liked you. You did this and I did not like that.' But at the end of the day, you're not going to align yourself with the enemy. To me, it just says you're weak."
MORE ON:
The Real Housewives of Atlanta
Article continues below advertisement
In Leakes' opinion, former model Bailey, who got upset when Leakes called her husband Peter a bitch on RHOA, has aligned herself with Moore. Cohen mentioned that Bailey sat next to Moore at the soon-to-be aired reunion show.
"She totally sat there with Kenya like her and Kenya were good Judys," Leakes remarked, using a slang term for lesbians.
It was odd to Leakes because, "Kenya came on the show from the beginning and blow Cynthia's head off."
"We're just not cool anymore," she shrugged of the modeling agency owner. "That's just how I roll."
"People would like to think Cynthia is innocent. She's not."
Leakes admitted things deteriorated when she told Thomas he was acting like a bitch—but pointed out she had apologized. However, since that episode aired, "she stopped calling me, I stopped calling her."
Leakes, who is now appearing on Dancing with the Stars, also told Cohen she's doing fine after being diagnosed with pulmonary embolism, blood clots in her lungs, which was dramatized on the RHOA finale.
Article continues below advertisement
Regarding the explosive reunion show, which will begin airing next week and, as RadarOnline.com has revealed (and a Bravo clip on Cohen's show confirmed) included a physical fight between Moore and Porsha Williams, Leakes revealed,"I think that sometimes people 'try' other people over and over and over again. Personally, I don't like Kenya. I felt like Kenya violated Porsha over and over again. She got up and she confronted Kenya."
The Watch What Happens Live clip showed Moore saying to Williams, "I'm talking bitch, shut up," before all hell broke loose.
Leakes also said her feud with former friend Marlo Hampton occurred because she didn't tell her she was filming RHOA scenes with Moore.
Leakes believed that was shady, and also thought Moore hung out with Hampton to make the Glee actress angry.
Addressing her embarrassing meltdown at Moore's charity event, which also caused conflict with Bailey's husband Peter, Leakes told Cohen, "She used my name to get guests there. Kenya didn't donate a dime."
Leakes explained she would have been willing to donate $20,000 to a charity chosen by Moore if the beauty queen had matched her donation, but she snorted, "She ain't got $20,000, honey, to match!"