NeNe Leakes In Violent New Feud, As Frenemy Marlo Hampton Launches Water Bottle At Her On 'RHOA'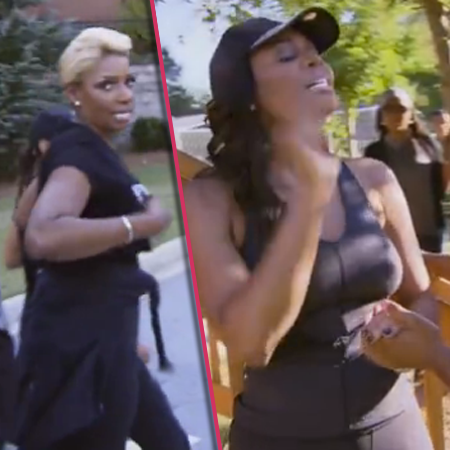 NeNe Leakes was dodging water bottles launched in her direction on Sunday's edition of The Real Housewives of Atlanta's, and we've got all the details that led up to the explosive incident, right here on RadarOnline.com.
The belle of Bravo's 'Peach State' ball, who's been sniping with co-star Kenya Moore lately, was berated by her angry friend Marlo Hampton on Sunday night's episode. Viewers saw Marlo -- who was one of NeNe's bridesmaids in her recent remarriage to Gregg Leakes -- melt down after she befriended Kenya, and NeNe made it clear she didn't like it.
Article continues below advertisement
During a games competition Cynthia Bailey organized for the housewives, the women formed teams and NeNe refused to put Marlo in her group: that infuriated Marlo, who joined Kenya's team instead.
The dispute got physical as Marlo appeared to leap on top of Leakes, then threw a water bottle at her.
"Kenya mean that much to you?!" Marlo shouted at a retreating NeNe. "You're that insecure? You're rich! What the f***! You're a person I looked up to! You're a mother. You're older than me! You don't know what a friend is, b****!"
NeNe told Bravo's cameras, "It's disappointing when you've been a friend to somebody and it's not reciprocated. I'm not the kind of person that somebody can just come in and take advantage of."
Marlo cried on Kenya's shoulder and vowed, "I'm not speaking at all to her."
Meanwhile, Kenya, who has been in the middle of many a RHOA conflict, said in a confessional segment, "I really hope the reason that NeNe and Marlo are fighting is NOT because NeNe is jealous of my friendship with Marlo. I mean, really? How old are we?"
Article continues below advertisement
NeNe also had issues with Cynthia's husband, Peter Thomas, because he had criticized her attitude at the charity party.
NeNe told hubby Gregg on Sunday night's show that Peter "was acting like a b****."
Gregg thought Peter was "way out of line," but they ultimately decided to attend Peter's 53rd birthday party, hosted by Cynthia.
"I love you so much. I know we don't always get along. That's part of being married," Cynthia laughed in her speech to Peter. They shared a big kiss in front of friends and family and she promised to be his Marilyn Monroe in the bedroom!
Article continues below advertisement
Later, NeNe visited Porsha who told her about her upcoming acting gig in Kandi's musical.
Porsha said her character has an abusive husband who broke her wrist.
"This role is going to be very emotional. The story is just like my life but her life was more abusive than mine," said the housewife who divorced football player husband Kordell Stewart.
Watch the video on RadarOnline.com
Porsha told the cameras, "For me, it's very emotional to play a role that's so close to what I dealt with as far as a controlling husband and not being able to have a voice and speak your mind, so for me it's taking me back and I feel like it's going to pull out a strong emotion to pull this off."