Cynthia Bailey Blasts NeNe Leakes: 'Friends Don't Call Friends B*tches!'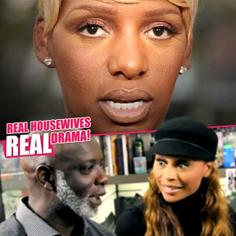 Cynthia Bailey and NeNe Leakes' friendship is on the rocks, after Leakes' "blatant disrespect" toward her husband Peter Thomas.
In a new preview for The Real Housewives of Atlanta, Bailey tries to understand why Leakes would attack her hubby.
"When it got escalated, NeNe called you the b-word. That's when it got extremely uncomfortable for me because there is nothing that Gregg Leakes could ever do for me to say, 'You a b-tch, Gregg,'" Bailey vented to her hubby.
Article continues below advertisement
"At a certain stage when you say that, it's hard to sweep that one under the table," Thomas added.
Bailey continued to slam NeNe's behavior as "completely disrespectful."
"The bottom line, friends don't go around calling friends b-tches," Bailey told the cameras.
Faked Scenes, Lies & Payoffs – The Ultimate Guide To Reality TV Shows
Later, Bailey and her husband confronted NeNe for calling Thomas out after he inserted himself into a fight the women were having.
"When you say the b-word, NeNe, that word is very provoking," Bailey said.
Leakes rolled her eyes and refused to apologize for the insult.
"Peter, I was really trying to say you were acting like a b--ch," Leakes replied.