Exclusive
Watch! Robert Wagner Explodes In Dramatic Confrontation Over Natalie Wood's Death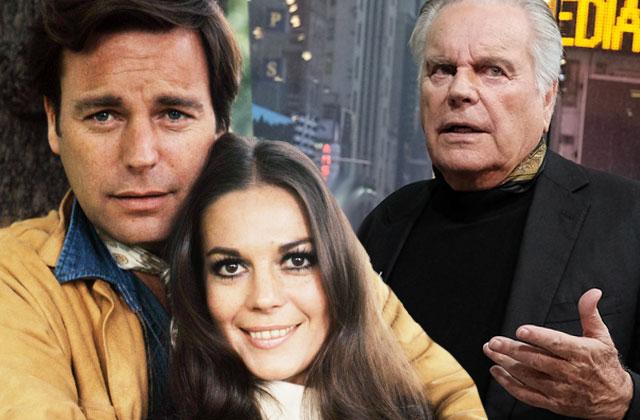 In two explosive, bare-knuckle confrontations, RadarOnline.com finally put the question on America's lips to veteran actor Robert Wagner: "Did you kill Natalie?"
Shockingly, the 86-year-old didn't deny murdering her!
The first dramatic face-off occurred at a Long Island, New York, bookstore where Wagner was shamelessly peddling a new book about his female Hollywood costars — just days before the 35th anniversary of wife Natalie Wood's mysterious death!
Article continues below advertisement
Stepping into a black Lincoln SUV, the "Hart to Hart" star growled, "What did you say?" He then leaned forward menacingly, but our scribe doubled-down on the inquiry: "Did you kill Natalie?"
The octogenarian puffed out his chest, his face beet-red with rage. His eyes narrowed to the size of coin slots — and it appeared he was ready to rumble.
An alarmed and bespectacled bookstore clerk pleaded with ole' man Wager to ignore Radar's dogged attempt to uncover the truth behind his wife's disappearance from their yacht, Splendour, on Nov. 29, 1981.
But the "Prince Valient" hunk proved anything but as he continued to dodge Radar's relentless requests to explain how the "West Side Story" beauty drowned off California Catalina Island after a violent domestic dispute.
When asked to explain Splendour skipper Dennis Davern telling cops Wagner had fought with Natalie right before her death, the actor stiffened for a second — and then squawked, "I have no idea." But he does!
Article continues below advertisement
As Radar reported, Dennis said he heard "things — objects, possibly people — hitting the walls" during the ruckus that erupted when Wagner smashed a wine bottle and accused Natalie of cheating with "Brainstorm" costar Christopher Walken, a guest on the yacht.
The skipper told investigators that 15 minutes after the scrum, Wagner emerged "sweaty, flushed, anxious, nervous and disheveled." The situation on the 60-foot-yacht "seemed tense," a source told Radar. Natalie's death was ruled an "accidental drowning," but was changed in 2013 to "drowning and other undetermined factors" — citing bruises on the 43-year-old actress' neck, forearm and wrist.
Labeled a "person of interest" in the case, Wagner has since refused to talk to homicide detectives. Wagner's lawyer Blair Berk, has said his client "has fully cooperated" with police, and he's vehemently denied any wrongdoing.
Like grim justice, Radar pursued Wagner to a second book signing at New York City's Lincoln Center. But the star weaseled out of more tough questions by hiding behind a phalanx of security guards.
Wagner was stone-faced as Radar's reporter demanded: "Why are you refusing to cooperate with investigators? Why did you bolt from Catalina Island after Natalie's body was found, and why did you send Davern to identify her body at the makeshift morgue and retrieve her wedding ring?"
As Wagner remained mute, a crony spat: "F**k off!"
We pay for juicy info! Do you have a story for RadarOnline.com? Email us at tips@radaronline.com, or call us at (866) ON-RADAR (667-2327) any time, day or night.