Miley Cyrus Planned Raunchy MTV Performance, Says She Did It 'To Make History'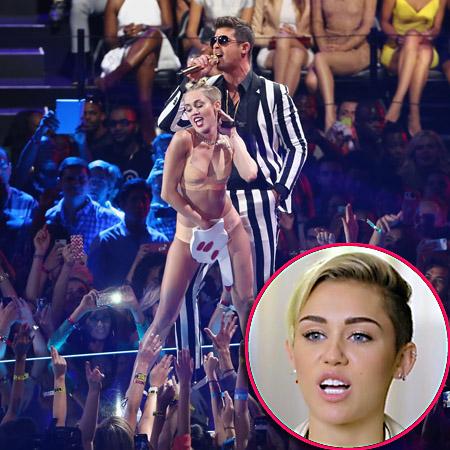 Miley Cyrus doesn't care what the critics have to say about her raunchy performance where she was rubbing Robin Thicke's crotch with a foam finger at the MTV VMAs, and said in her first interview since the show that she did it "to make history."
"I don't pay attention to the negative because I have seen this play out," Miley told MTV about the lewd dance that sent shockwaves around the world.
"How many times have we seen this play out in pop music?"
Article continues below advertisement
Miley, 20, defended the sexually suggestive moves she made on stage with Robin while singing his hit Blurred Lines.
"You know now... you know what's happened. Madonna's done it, Britney's done it. Every VMA performance, anyone that performs...that's what you are looking for."
She attempted to come across as a savvy business woman in the entertainment industry, saying that the notoriety they would get from the racy performance was planned all along.
"You wanting to make history. Me and Robin the whole time said 'You know you are about to make history right now?'"
Since the show aired Miley has been the center of attention and she loves that.
"It is an amazing thing that I think now it is three days later and people are still talking about it," she bragged.
Miley dismissed her many critics, from Dr. Laura to the Parents Television Council, saying that she doesn't care nearly as much as they did.
"They're over thinking it. You're thinking more about it than when I did it. Like I didn't even think about it because that is just me."
In case you didn't see the video, check it out here. radar_embed service=mtvnservices src="http://media.mtvnservices.com/embed/mgid:uma:video:mtv.com:942064/cp~series%3D2760%26id%3D1713363%26vid%3D942064%26uri%3Dmgid%3Auma%3Avideo%3Amtv.com%3A942064" width="512" height="288"