Most CHARMING Interview Ever! Mila Kunis Tickled By Nervous Young Reporter Who Repeatedly Asks Her Out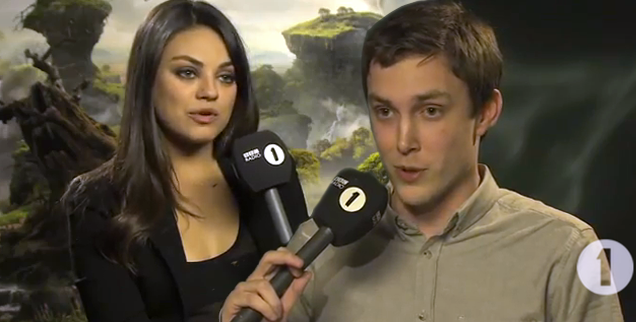 In a video that's quickly going viral, Mila Kunis is utterly charmed by a bumbling BBC Radio reporter named Chris Stark, who interviewed her during a recent press junket for her new film, Oz The Great and Powerful.
At the start of the interview, Stark -- channeling a young Hugh Grant – admits upfront to the stunning star that he's nervous.
"Seriously, I'm petrified. ... I've never done this before," said Stark, as he asked Kunis his first question, "Did you enjoy being ugly for once? Because generally, you know, you're hot."
Article continues below advertisement
When Kunis asked why he's frightened, Stark said how nerve-racking it was to be "talking right at" the actress with "cameras everywhere." He then added he couldn't wait to tell his pals at the local pub that he had interviewed her.
When the topic turned to alcohol, Stark said his favorite drink was Jager bombs, to which Kunis exclaimed, "That is disgusting!"
youtube
During their 7-minute chat, Stark proceeded to invite her to a pub, a football match, and later to his pal's wedding in June as his 'plus one.' She politely declined, explaining that she had to work, but exclaimed, "This is the best interview I've had today!"
When the movie's publicist - who was off-camera - prodded Kunis to actually talk about the movie, she hilariously launched into a series of generic responses to questions she thought he'd probably ask.
It was obvious that Kunis welcomed the lively change in topics from the usual questions asked by reporter after reporter, i.e. "What was it like working with James Franco?" and "What's the status of your relationship with Ashton Kutcher?"
Watch the video on RadarOnline.com
Oz The Great and Powerful hits theaters Friday, March 8.