'Raging And Out Of Control': Latest Developments In Michael Jace Homicide Case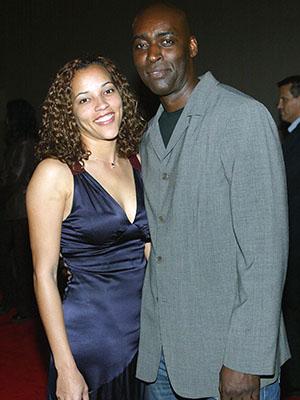 As police continued investigating actor Michael Jace's fatal shooting of his wife April Monday, we've got all of Wednesday's latest developments in the shocking incident involving the 51-year-old, who found modest fame with a regular role on FX's The Shield.
Legal Ongoings
Jace was in custody in lieu of $1 million bail, police said, adding that an autopsy on April Jace was slated for Wednesday. Authorities were expecting to file murder charges against the actor Tuesday. According to Los Angeles Police Detective Dean Vinluan, police are scouring 911 calls regarding the shooting at the Hyde Park, Calif. home. Authorities said in a statement Tuesday, "At this moment, the motive of the murder is believed to be domestic violence."
Article continues below advertisement
Writing On The Wall?
As we previously reported, Jace was formerly wed to a woman named Jennifer Bitterman before their 2002 divorce, leading to a vicious custody battle in which he admitted both he and his ex "were both guilty of overstepping physical boundaries." Bitterman's friend Maria de la Vega said in court papers that she'd seen him in one of his rages, including an incident in which he choked his ex-wife and smashed her head into a wall in front of their baby son's crib. The accused killer "was raging and out of control, and seeing the extent of his anger was one of the most terrifying things I have ever seen," de la Vega said in court docs.
The Victim Remembered
The mother-of-three, an education professional, had worked at Biola University in La Mirada, Calif. counseling students on financial aid, where, according to her superior in the department Geoff Marsh, "Her love for helping students and families and her great work ethic earned the respect and love of her co-workers." Adria Iraheta, a student at the University, said on Twitter, "The Biola community is so shaken up right now. We'll miss you #RIP."
Article continues below advertisement
A Neighborhood In Shock
No domestic violence reports were ever filed from the Paterson, New Jersey native's home, Vinluan said, as RadarOnline.com reported that numerous financial issues that might have led to tension in Jace's household. Next-door neighbor Shirley Harding told the AP she'd "never heard arguments," but rather "happiness" coming from the neighboring property.
Comments From Colleagues
Some of the actor's The Shield co-stars publicly reacted to the news regarding Jace, who played the role of closeted LAPD officer Julien Lowe on the series. Kenny Johnson wrote, "It's horrible … sitting here stunned and sad!!!!" on his Twitter page, while David Marciano appeared on The Insider, speculating how the actor's dry spell of roles, after a multi-year run on a successful series, might have put him under extra financial and psychological pressures. Marciano said that if he had a message to give Jace's children when they're older, he'd tell them their father "was a good man, and don't judge him by this one act." Two of Jace's more notable co-workers, Forrest Gump star Tom Hanks, and The Shield leading actor Michael Chiklis, had not addressed the slaying on their Twitter accounts.