Exclusive
Motive For Alleged Murder? Michael Jace $500,000 In Debt After Filing For Bankruptcy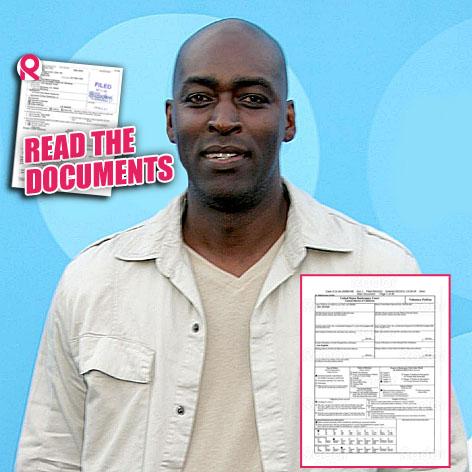 Michael Jace is behind bars after being charged with murder in the shooting of his wife Monday in Los Angeles, and as reports continue to surface as to what could have motivated her violent death, RadarOnline.com has learned that the actor was facing some severe money troubles since filing for bankruptcy.
According to documents obtained by RadarOnline.com Online, Jace has been $500,000 to $1 million in debt since declaring Chapter 13 in 2011.
Article continues below advertisement
In fact, his financial burdens became so heavy that he was behind $2,886 as of October 16, 2013 on his monthly $962 payments, with the trustee even going so far as to file court documents to dismiss the case due to the delinquent payments - the motion was then withdrawn two months later.
Jace, best known for his work as a closeted cop on The Shield, listed his total assets at $325,500 and his liabilities as $514,761.03.
As part of the monies he owed included back taxes of $22,276.03.
At that time he had also defaulted $40,006.79 on their home.
SEE THE SHOCKING MICHAEL JACE CRIME SCENE PHOTOS HERE
Since the hit FX crime drama came to an end in 2008, the 48-year-old actor hasn't had steady work except for bit parts on such other successful series including Private Practice and The Mentalist in 2011 and irregular appearances on Southland, which could explain his lower monthly income listed as $5,423. Their expenses totaled $5,307.83.
Article continues below advertisement
In 2009, he claims to have made a substantial $71,270 and $75,000 the following year, which significantly dropped in 2011 to $17,000.
According to the docs, there were even months on end when his wife was the only one bringing in income of $1,976 through her job with the Los Angeles Unified School District.
At the time Jace wrote that he had $1,500 in his checking account, $2,500 in goods, $500 worth of books and CDs, $1,000 in clothing and $2,000 in jewelry to his name, as well as a 2002 Chevrolet Tahoe valued at $8,000.
He also notes that he'd been receiving zero in television residuals.
Cops found April Jace dead at 8:30 p.m. Monday at their Brynhurst Avenue house in Hyde Park, Calif.