Exclusive
Michael Jace Charged In Wife's Shooting Death: Neighbors Reveal 'The Shield' Star Was 'In A Daze' — See The Crime Scene Photos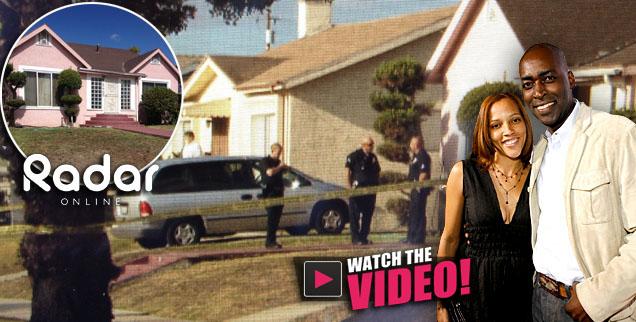 Neighbors were terrified when they heard three shots fired inside Michael Jace's home on Monday night and The Shield actor looked like he "was in a daze," immediately after the incident RadarOnline.com has exclusively learned.
The 48-year-old actor has been charged with the murder of his wife after he admitted to police that he shot 40-year-old April Jace in their home in front of their young children and Radar has exclusive crime scene photos from the murder house.
Article continues below advertisement
"I heard a bang and I said, that sounds like a gunshot not knowing really because I don't hear gunshots," frightened neighbor Shirley Harding told Radar in an exclusive video interview.
SEE THE SHOCKING MICHAEL JACE CRIME SCENE PHOTOS HERE
"I heard one shot like 'pow' and then after that 'pow pow' behind it like three shots," Harding recalled to Radar.
Fearing for her life, Harding described the frantic situation.
"So I said 'it sounded like a gunshot' then I heard two more times, I heard three shots I said 'I think that's gun fire' and I just took off and got in my house."
Jace and his wife had been married since 2003 and have two young children.
Los Angeles Police Department officers on the scene confirmed to Radar that the children are in the custody of April's parents. Their dog, a friendly German Shepherd, remained in the back yard but authorities told Radar the family was coming to take care of the pet.
Article continues below advertisement
Joan Lewis, the neighbor on the other side of his Hyde Park, Los Angeles home, told Radar exclusively that she saw Michael in handcuffs outside the home next to a police car on Monday night.
radar_embed service=5min.com src="http://pshared.5min.com/Scripts/PlayerSeed.js?sid=1126&width=570&height=351&playList=518238882"
Without any blood visible on his person, Lewis told Radar Jace looked "Like he was in a daze, like he wasn't really there."
Harding also told Radar that she had never seen any discord in the family.
"I ain't never heard and argument over there in the 12 or 13 years they've been over there.
The Craziest & Most Outrageous Celebrity Rumors — What's True, What's Not?
"All I've seen is them holding hands with their kids. It's a happy couple and loving their kids, a happy family
Stay with Radar for updates to the story.