Melissa Gorga Bows To 'Queen' Teresa Giudice, Kisses Her Ring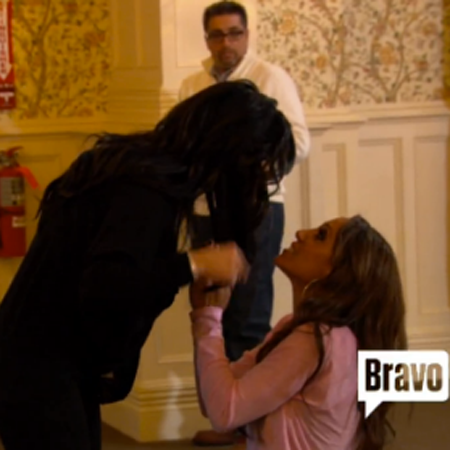 Melissa Gorga got on her knees to beg sister-in-law Teresa Giudice to stop hurting her and Melissa's husband, Joe Gorga, on Sunday night's The Real Housewives of New Jersey.
Melissa dramatically fell to her knees in front of Teresa, and shouted, "Stop hurting us! I'm asking you to stop! I have no pride; you're the queen, I'm on my knees."
She even bowed and kissed her sister-in-law's ring in sarcastic tribute to the show's alpha dog.
Article continues below advertisement
But instead of instilling peace, the emotional screaming match between the two women preceded an all-out brawl between Joe Gorga and Teresa's husband, Joe Giudice, during a family counseling retreat.
As RadarOnline.com previously reported, Sunday night's show ended with Joe Gorga calling his sister "scum" after she said Melissa had influenced him against her.
Teresa felt Joe should "get b***s, be a man" and stick with his biological family -- but her brother yelled, "I'm not sticking with scum like you!"
Teresa walked out of the room in anger and told her husband, Juicy Joe, what had happened.
"Joe, he just called me scum! I want to leave," she shuddered.
Guidice responded by rushing into the inn and demanding that Joe Gorga apologize, but Gorga charged at Giudice instead, and the two men grappled on the floor as Bravo's camera's dramatically faded to black!
However, most of the episode showed what happened before the men's fight, as the Giudice, Gorga, and Wakile families went to the retreat -- in Lake George, New York at the base of the Adirondack Mountains -- to hash out family issues.
Article continues below advertisement
All were wary of the event.
"She has to stop stabbing us in the back," Joe Gorga said to wife Melissa as they packed their bags. "I want to go and confront Teresa." But incredibly, given what happened later, Gorga said it was his goal to keep the peace with Teresa's husband!
Meanwhile, the Manzo and Laurita families decided to boycott the get-together.
Caroline Manzo said she wasn't in the mood to have a target on her head at the retreat, so instead, she and husband Albert spent time together at Paterson Falls, New Jersey, where Al's late father had once fixed up bridges over the waterfalls.
Al said Caroline should honor his dad by walking on the foot bridge, but the housewife giggled that she was afraid of heights and ran across it as fast as she could, laughing.
Still, they enjoyed the outing. "This is the beginning of a new start of us doing fun things together," Caroline said.
She wanted her workaholic husband to take more time and enjoy life.
At the Laurita home, Jacqueline and husband Chis were happy not to get caught up in Teresa's drama.
Article continues below advertisement
"I"d rather get my lips waxed -- all of them," Jacqueline declared about the Lake George trip.
Chris seconded her emotion: "I'm really happy we're not going out there."
Meanwhile, at the retreat's inn, Kathy Wakile told Teresa that the Manzos and Lauritas weren't coming. Kathy gave the excuse that Jacqueline was having a hard time with her autistic son, Nicholas. Teresa complained to the others about Jacqueline's negative tweets about her.
Later, Teresa said Jacqueline should "go get a job."
Her husband Joe was even harsher, saying of the Lauritas and their autistic son, "They keep bringing up this poor little kid as an excuse. Autism isn't a bad disease. Some of them are scientists."
But then he shrugged to his wife, "I'm not a doctor. I'm just here for you."
With awkward silence prevailing among the family members at mealtime, Kathy Wakile's sister, Rosie Pierri, broke the tension by saying team builders would be coming in to help everyone with ice breaker games--while Joe Giudice asked everyone if they had heard him farting upstairs!
Article continues below advertisement
Soon, the husband/ wife team, Steven Ockerbloom and Stephanie Sabile, arrived to lead the clan through the games. Melissa privately doubted that the pair, who looked to her "like Opie and little Miss Sunshine" would be able to help them.
"Conflict itself isn't a bad thing," Steven told the group, but didn't want them to go down a destructive path. All the family members had to work together to step on rectangles without touching the floor. Teresa admitted the game was kind of stupid, but they all had to hold onto each other in the exercise and wound up laughing. Later, they also practiced thumb wrestling.
But things have never been easy for the Jersey housewives, and Joe said in his confessional of his sister, "She has no heart."
Teresa claimed to the others that Jacqueline was the reason she and her brother were estranged. When Melissa tried to take issue with that, Teresa accused Melissa of speaking for Joe Gorga.
Teresa said she dared Jacqueline to come "look me in the eye and tell me why she did what she did," while Kathy reminded her that Jacqueline wasn't a part of the feud way back when.
But things really got out of control when Teresa and Melissa got into it again, and Joe Gorga yelled at his sister, "Shame on you!"
Not long after that, all hell broke loose!
Watch the video on RadarOnline.com
The Real Housewives of New Jersey airs Sunday on Bravo at 8/7c.