Kyle Richards' Husband Mauricio Slams Cheating Rumors: 'I Can Do A Lie Detector Test Tomorrow -- No Problem!'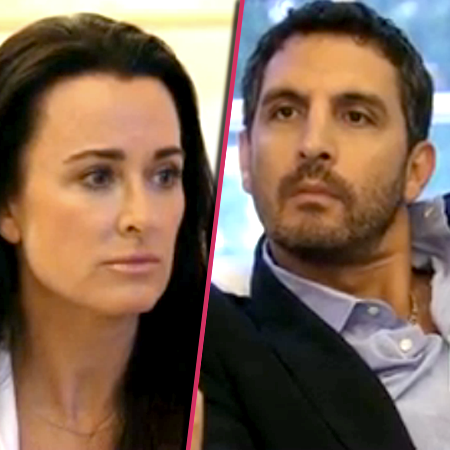 Kyle Richards and her husband Mauricio Umansky fought off cheating rumors once again.
During Monday night's episode of Real Housewives of Beverly Hills, the couple were united and continued to shoot down infidelity rumors during lunch with her co-star Joyce Giraud and her husband.
Listen! 'RHOP' star Wendy Osefo breaks down the "most intense fight in the show's history" in under 2 minutes.
"When anyone tries to come between us, it actually makes us stronger," Kyle said. "We know what we have."
Article continues below advertisement
Her husband stood by her, calling out the fellow housewives for being mean girls.
"Let me tell you something. Any of these f**king girls can do a lie detector test with me tomorrow and no problem," Mauricio said, adding that the lies splashed across the tabloids have made him "loose all faith in humanity."
"I realized that as long as you're in the spotlight, people are going to say bad things about you," Kyle said in her confessional. "We choose to surround ourselves with people who know us inside and out. We're not supposed to care, but we do. And it hurts."
Later, Kim Richards arranged a circus school outing, which she thought would result in an afternoon of camaraderie among the women. But tempers quickly flared among the group.
During the outing, Brandi Glanville vented about Kyle, who reportedly told the paparazzi she was a "bully."
"I feel like I had given her a heads up about stories written about her husband — as a girl's girl, I gave her a heads up about it," Brandi said.
Article continues below advertisement
"But then yesterday, I was getting chased down in Calabasas by the paparazzi saying Kyle Richards is calling me a bully," she later told Kyle's sister.
Kyle tried to defend her sister and shut down the catty behavior.
"The paparazzi make things up," she said.
But Brandi and Yolanda didn't seem amused with her diplomatic behavior.
Later, Kyle confronted Brandi and claimed she never called her a bully.
"I'm not going to apologize for something I didn't do," Kyle fired at a defensive Brandi.
"Good, so tell my kids," Brandi laughed.
Days later, when all the housewives meet for lunch, Brandi confronted Kyle in front of everyone – again.
"It just sucks to be called a bully in front of my children," Brandi told Kyle.
"You should tell the paparazzi that. Obviously they are making up all these lies about everybody," Kyle said, adding that she doesn't talk to the press. "I have no control over what the paparazzi says to any of us."
Article continues below advertisement
Brandi blamed the bully talk on Kyle's camp but after getting no where, she folded.
"Okay, I believe you," she said half-heartedly.
Lisa chimed in, and told Kyle that she should have tweeted a denial and it would have been over.
Kyle vented in her confessional.
"Are you f**king kidding me?! I've been dealing with the biggest nightmare of my life," she said, alluding to the cheating rumors. "I'm sorry. Do you not see what I've been going through?"
The fight continued as Kyle called out Brandi for bluntly bringing up her husband's alleged cheating over lunch at Carlton's house.
Although Brandi said she brought up the rumors "to help her," Kyle didn't buy it.
"Let's move on…. Enough of this mean talking. I can't take it!" a flustered Kyle vented.
The episode wasn't all drama though. It got warm and fuzzy, when Lisa Vanderpump got a big surprise from her husband Ken: a new puppy dog.
Article continues below advertisement
"He knows the way to my heart. I'm dog crazy," she said about her new Labrador.
"Giggy is going to have a heartattack," Lisa told her husband.
Earlier in the episode, party girl Brandi and her new costar Carlton Gebbia got intense during a shopping outing, when they started talking about the size of Gebbia's breasts and Glanville eventually reached over to cop a feel.
"There's a lot of boob," she joked as she touches Carlton's breast in the middle of the costume-lingerie store.
"I'm not a lesbian," Brandi told the cameras in a confessional. "I've never been in a relationship with a woman, but I find women attractive and beautiful and sexy."
And then things get turned up as Carlton tried on a sexy costume for Glanville and steps out of the dressing room for her costar's critique.
"Woo, my God," Brandi stated as Carlton walked out. "I never realized that her body was this insane ."
After she exclaimed that Carlton is "good from the front," she walked over to put a feather boa around Carlton's neck.
"We definitely gravitate towards one another," Carlton told the cameras in her own confessional with a sly smile on her face. "We like to play."