LOL! Jimmy & Ellen Dance Cheek-To-Cheek, DeGeneres Surprises Kimmel With 'Dance Dare'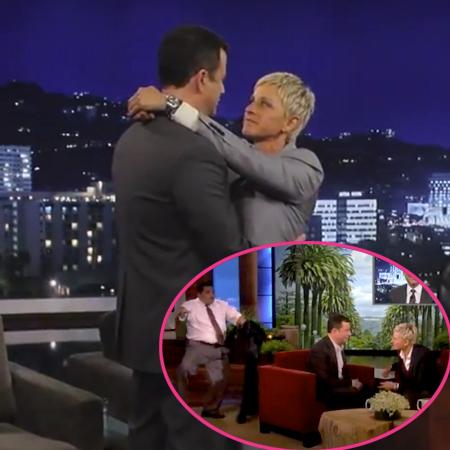 On Monday night's episode of Jimmy Kimmel Live!, we were hoping the affable host would ask guest Ellen DeGeneres for her unique take on Jodie Foster's wild coming out speech at the Golden Globes Sunday night, but alas he did not. So while they didn't even dance around the issue, at least there was dancing - A LOT!
Yes – 'cutting a rug' was definitely the theme of Ellen's charming chat. When Ellen wasn't joking that she wishes she had a kid to give her something to talk about or when she wasn't discussing visiting Australia (partner Portia de Rossi's homeland) for the first time in March, it was an interview that Bruno Tonioli would have loved. (And we did too!)
Article continues below advertisement
The highlights included Ellen surprising Jimmy by showing him video of his sidekick Guillermo hilariously dancing behind Kimmel -- without his knowledge -- during a break in his appearance on Ellen's talk show last week; Kimmel showing video of people imitating babies dancing; and Jimmy and Ellen dancing cheek-to-cheek at the end of their interview.
The two hit the floor after Ellen said, "I don't want to leave and I know you don't want me to leave. Neither of us wants to be the first to say goodbye."
"You're right," Kimmel responded. "May I have this dance?"
The bit created an extremely sweet moment – not to be missed.
Watch the video on RadarOnline.com
Jimmy Kimmel Live! airs weeknights at 11:35/10:35c.
youtube