Lisa Under Fire! Vanderpump 'Belittling, Dismissive' and 'Playing All Of Us,' Groan 'RHOBH' Co-Stars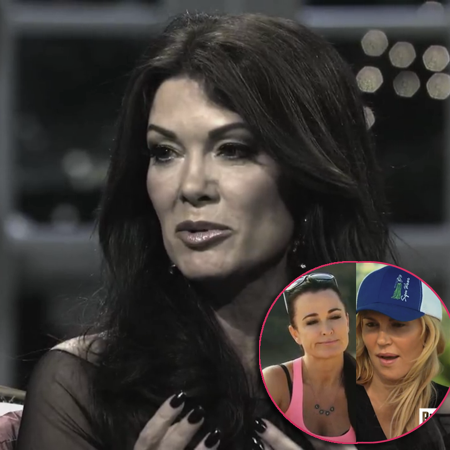 Lisa Vanderpump's cunning and manipulative ways became the center of Monday night's episode of The Real Housewives Of Beverly Hills, as all of her castmates began to question the British beauty's motives and wondered if she was out to destroy anyone who crossed her.
First, Brandi Glanville opened up to Kyle Richards about her faltering friendship with Vanderpump.
"I am used to getting my morning phone call from Lisa Vanderpump," she explained. "We discuss everything under the sun and what happened last night and what's going to happen tomorrow. But when things kind of started to go south for me, the calls were trickling off."
Article continues below advertisement
"I just don't understand how she can go from hating you to having you back," she said. "It's one thing not to trust men, but you still want to trust your girlfriends. They're not going to cheat on me. I feel like Lisa is cheating on me."
Brandi wondered if she'd become Lisa's mouthpiece.
"I was being manipulated into doing and saying things, that I didn't want to f*cking say … I'm starting to wonder if I was doing my dirty work for her… She is playing all of us.
Article continues below advertisement
Kyle agreed, adding, "When I've spoken up to Lisa, she has punished me and shut me out. Unless you're kissing Lisa's a**, she doesn't like it."
"I'm waiting for her to ruin me. I'm not 100 percent prepared to go up against her," Brandi said, getting emotional.
Next, Yolanda Foster met with her ex-husband Mohamed Hadid and his fiancée Shiva where the topic quickly changed to Lisa – who had scheduled a party on the same night as Yolanda's step-daughter's wedding.
"Lisa had a party the same night. These days, Lisa is all about Lisa. She knew my stepdaughter was getting married at Mohamed's house -- and she still threw a birthday party of Mauricioand Ken. It's frustrating," Yolanda vented.
"Family goes before friends," Yolanda added.
Later, Carlton and her husband threw a company party, where she confronted Lisa, and apologized for the massive blowout she had with Kyle.
Article continues below advertisement
"I feel like you called this one wrong … it looked like you were overreacting to the star thing," Lisa said.
But Carlton wasn't buying it.
"Lisa is trying to diffuse the animosity, but knowing how she felt about Kyle in the past, it does sting," Carlton said.
Bringing up the fact that Kyle called her "anti-Semitic," Carlton said she was "devastated" by the crass remark.
"I lived in South Africa during Apartheid, and I saw the pain these poor people were going through," Carlton explained. "I have never in my life been accused of something so heinous… I don't understand how you have such hate for another human being for no reason.
Article continues below advertisement
"I have nothing left to say to her," Carlton added, with tears in her eyes.
"This is affecting my family's name," she told the cameras, adding that Lisa's reaction was startling and she didn't understand why she wasn't offended by Kyle's prejudice remark.
Sitting down for a heart-to-heart, Brandi chats with Kim Richards about Lisa's party last week, where she bumped into SUR waitress Scheana Marie, who admitted she was one of Eddie Cibrian's many mistresses.
"Lisa asked me to talk to her about marriage. It was disgusting. The only thing we have in common is we shared my husband's penis for a hot f*cking second," Glanville said, adding that she had specifically told Lisa she didn't want to be around Scheana.
Kim agreed with Brandi and called out Lisa: "If you were my friend, and you were coming to my home, I wouldn't have that. Lisa, come on, get a grip!"
"Lisa is always dismissive of me. She is belittling to me, but she paints a picture, like I care about you darling," Kim told the cameras rolling her eyes.
Is Lisa's reign in Beverly Hills over? Tell us your thoughts below!