Lindsay Lohan Was Paid A Paltry $100 Per Day For Filming The Canyons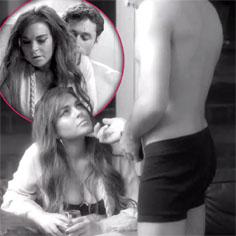 Lindsay Lohan was paid a paltry $100 per day for her role in the upcoming independent film The Canyons, and we've got the details for you right here on RadarOnline.com.
The 26-year-old's contract called for pay of "$100 a day and an equal share of the profits," but she was denied any decisive powers in the making of the film, which had a skeleton budget of just $250,000.
The on-set revelations come from a new report from New York Times writer Stephen Rodrick, who was granted access to production of the Paul Schrader-directed vehicle.
Article continues below advertisement
The contract also stipulated that performing in sex scenes was non-negotiable, Rodrick wrote, as one scene features LiLo smack dab in the middle of a romp with three male co-stars, including porn star James Deen.
The Mean Girls star had her reservations prior to filming the sexy exchange, hiding in a closet before the nude scene, which spurred 65-year-old Schrader to strip naked himself in hopes of helping her feel comfortable.
It worked: According to Rodrick, after Schrader changed into his birthday suit, "Lohan dropped her robe.
"Schrader shouted, 'Action,' and they filmed the scene in one 14-minute take. About halfway through, Lohan looked directly into the camera and flashed a dirty, demented smile at Schrader."
On the same day, Rodrick wrote, Lohan had been drinking and wound up leaving the set in her Porsche, even after producer Braxton Pope offered to get her a ride home.
Article continues below advertisement
"But she refused, jumped into her Porsche and headed down the dark, narrow road toward the PCH," Rodrick wrote. "They all hoped they would still have a lead actress in the morning."
Fun fact: Deen, whose real name is Bryan Matthew Sevilla, has been in many porn spoofs of real TV shows and movies, such as Dallas: A XXX Parody, This Ain't Ghostbusters XXX, This Ain't Two and a Half Men XXX and Seinfeld: A XXX Parody.