Lindsay Bombshell! Lohan Reveals She Had A Miscarriage During Filming Of Reality Show -- Who Was The Daddy?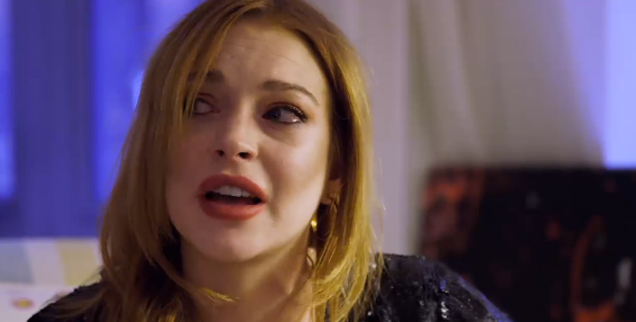 Lindsay Lohan dropped a bombshell on the finale of her OWN reality show, revealing she had suffered a miscarriage while making the docu-series.
At the end of Sunday night's two-hour Easter broadcast, viewers saw Lohan tell the cameras about her experience making the show, and she said she had a reason for refusing to film during a particular time period of Lindsay.
While Lohan came across on TV as unprofessional, she suddenly confessed, "No one knows this — and we can finish filming the show after this -- I had a miscarriage for those two weeks that I took off.
Article continues below advertisement
"It's a very long story," she said, as the director expressed how sorry she was. "That's why when it says on the show she doesn't want to come down, it was really because I couldn't move. I was sick.
"Mentally, that messes with you."
The 27-year-old actress said seeing her own reality show put her in a bizarre place.
"Watching this series, I just know how I felt at that moment and I can relate to that girl. It sounds kind of crazy, but I'm like, oh, my God. This is really sad. Who is helping her?" she told the OWN cameras. "I cried so many times watching it. No one knows what's going on my head at every second because I'm constantly thinking. My mind does not shut off.
"There was a lot going on in my life."
But Lohan's revelation raised even more questions, as the famously rehabbed star didn't give details on the circumstances of the pregnancy or who the father of her miscarried baby was!
During the TV show, the Mean Girls star was shown hanging out with Liam Neeson's son Michael, 18, and Russian model Vladimir Averyanov.
And as RadarOnline.com has reported, Lohan was embroiled in a new scandal this year after her long list of celebrity sex partners was leaked to In Touch.
Article continues below advertisement
Lohan's alleged 36 conquests included the late Heath Ledger, James Franco (who has denied it), Adam Levine, Zac Efron, Justin Timberlake, Colin Farrell, Joaquin Phoenix, Garrett Hedlund, 50 Shades of Grey star Jamie Dornan, Wilmer Valderrama, and Lukas Haas.
Was one of the men on the notorious list Lohan's almost her baby daddy?
On her reality show, Lohan wasn't talking, but she did open up about how she felt about the list winding up on magazine covers.
While In Touch reported that Lohan wrote the list during a drunken kickback session with friends, Lohan said on her documentary finale that it came out of one of her rehab stints.
"That was part of my Betty Ford — it's step number five or step number eight, your sexual inventory," she explained. "You write that for your sponsor. That was in my Betty Ford book.
"When I was moving, and I was at the Beverly Hills Hotel, there were two people there who helped me move ... someone took a photo of my Betty Ford book and I'm pretty sure I know who it is and they're not part of my life anymore. Took that photo and released that."
Article continues below advertisement
Looking upset, Lohan commented, "I don't care about me in that situation. I care about the people that are involved with other people because it's really unfortunate and disrespectful. That's something sacred to me, that's something that I trusted with people that were in my life.
"That's something I didn't show anyone aside from my sponsor, who's also a very well-known person.
She continued "The fact that happened was not only humiliating but just mean. Anyone that's willing to do that to someone else is really f**ked up in the head and I don't want that in my life."
Also on Sunday's finale episode, Lohan was shown answering Jared Leto's questions for his short film City of Angels and being two hours late for a Funny or Die appearance in which she wrecked a car.
Lindsay also showed how she dealt with the alleged Barron Hilton beatdown while she was in Miami for Art Basel.
In her personal assistant Matt Harrell's version of the incident: "Barron Hilton refused to leave … and Barron got punched and Lindsay got blamed for it."
Article continues below advertisement
When asked directly to explain, Lohan told the cameras she couldn't, but then claimed, "I didn't have any part in it."
Lohan complained to Harrell that people were still talking about the incident so she had to write a statement on her website. But she abandoned the idea after her advisors told her not to.
Viewers also saw her introduce Miley Cyrus at the Jingle Ball at Madison Square Garden, and there was drama behind the scenes when the Wrecking Ball singer didn't meet with Lohan beforehand, or apparently even acknowledge her.
"Well, she should at least respond to my tweets," Lohan, who had wanted a face-to-face with the singer, told her personal assistant Matt Harrell.
"Are you mic'ed?" Harrell asked her, obviously knowing how it would look on camera.
Later, Lohan met with producers for her upcoming movie Inconceivable and promoted it at the Sundance Film Festival.
Lohan also showed her playful side when her "friend," Vladimir Averyanov, who was seen on an earlier episode getting his ear pierced with a knife, was trying to go to the Jingle Ball with her and got lost on the way to her apartment.
Article continues below advertisement
He finally materialized in Lohan's car after she made fun of his Russian accent.
Lohan also hung out with her former personal assistant and nightclub pal Gavin Doyle, who is seen by some as being bad for the star.
Although cameras apparently caught Doyle drinking while out with Lohan, she shrugged to OWN, "My friends are allowed to have drinks. It doesn't mean that they're a bad influence."
In addition to getting Inconceivable off the ground, Lohan met with literary agent Scott Waxman to discuss a possible book deal.
"I love writing. I have a lot of things to say I feel people will relate to," she told the cameras.
Waxman said of the proposed memoir, based on her journals, "This is a multimillion dollar book, a huge bestseller. There's no doubt in my mind."
Lohan seemed thrilled about writing her own book as her mother, Dina Lohan, had just finished her own memoir about her life as a celebrity mom.
At the end of the show, however, Lohan was in tears while reflecting on doing Lindsay, and saying, "There are drugs that people have said I've done that I've never touched and I know people that have done that and I've tried to help a lot of people to get away from that sh**. I'm not your typical addict. I know the difference between right and wrong."
Article continues below advertisement
Watch the video on RadarOnline.com
Lohan said she did a cleanse with a shaman "and I saw my whole life in front of me," and let go of the dark things in her life.
"I saw myself die, being born. I feel different ever since that, just being okay with the wreckage of my past and letting that go and starting fresh.," she said.
"I'm in a good place and I don't want to mess with that," she said of looking forward to shooting Inconceivable in June.
"I have that fire back in me," she said of wanting to work again.
But with the new revelation about her messy personal life, the only thing people will be wondering is, who was Lohan's potential baby daddy?