'This Is Not What I Signed Up For!' Lindsay Lohan's Diva Side Flares Up On New Show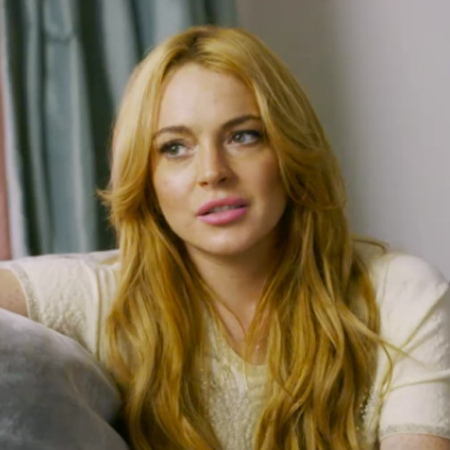 Lindsay Lohan's self-titled reality TV show on Oprah Winfrey's OWN channel depicted the troubled star as an ornery prima donna in its' premiere Sunday, and we've got all the details for you right here on RadarOnline.com.
On its' first night, Lindsay -- a documentary series about Lohan's life after getting out of rehab -- the actress was shown storming off the set of a lingerie shoot, ranting to her real estate agent, and forcing her personal assistant to get her a new hotel room after leaving her original one in shambles.
Article continues below advertisement
"My intention is to just be me," recovering alcoholic Lohan told Winfrey in starting her new TV journey.
And was she ever!
Viewers were treated to scenes of Lohan claiming to be in a better place and "excited to start this new chapter" -- but then reverting to her old hard-to-work-with ways.
Just 34 days out of rehab, Lohan was shown making a cameo in a film to promote a lingerie line -- and immediately having issues with producer Jeremy Frommer.
"This is not the way I would show off lingerie," Lohan told Frommer after hearing what she had to do.
"I thought this was a photo shoot that was going to be filmed," Lohan told OWN's cameras. "And then they added this weird dialogue. I don't like being lied to."
When Frommer tried to get to the bottom of what was bugging Lohan, she said, "When we discussed this ... I was the girl that had the love story. That was interesting to me. That's why I wanted to do this."
Article continues below advertisement
Lohan's personal assistant, Matt Harrell, told the cameras, "They wanted to change the script ... that's not what we agreed upon."
When Lohan told Frommer she'd rather be in London promoting her movie The Canyons, the producer got angry and blamed Lohan's schedule for the problems.
"Listen to me!" Lohan then said, pointing at shocked Frommer. "Now I'm getting p***** off. I canceled my f***ing trip! Don't put words in my mouth."
Lohan started to cry, then said, "This is not what I signed up for," and stormed out of the makeup area.
Frommer attempted to clear the air with the out-of-control star later, but Lohan said she felt uncomfortable with the shoot, and ultimately pulled out of it.
Also during the episode, viewers saw the drama of Lohan moving back to New York and looking for a new apartment in Soho.
But when Lohan finally found a place she liked, the recovering party girl was convinced her real estate agent, Cash Bernard, wasn't working hard enough to seal the deal.
Article continues below advertisement
In a tense phone conversation with Bernard, Lohan said, "What EXACTLY is it going to take to get the keys?! I hear it in in the tone of your voice, how lackadaisical you are about it."
After finding out a $10 million liability policy had been put in her lease, Lohan went ballistic, shouting to Bernard over the phone, "They can't just add that to the lease! How the hell can anyone have that?! I'm not Oprah. I can't get that!"
Following the apartment debacle on Sunday's show, her assistant Harrell had to pick up the pieces.
After living in a New York hotel for 36 days, antsy Lohan suddenly decided she had to get an entirely new room in the same hotel where she'd been staying.
Harrell had to quickly transfer all of Lohan's clothes and personal items into a new room before she came back from watching her sister, Ali Lohan, do a runway modeling job.
Article continues below advertisement
"I was the lucky guy that got to switch everything over. This woman's got s*** you couldn't believe," Harrell sighed as he cleaned the room, which looked like it belonged to a hoarder!
While Harrell did all the dirty work, Lohan improbably told the cameras she remembered "being in this bubble where everything was done for me.. Now I'm figuring everything out for myself."
Watch the video on RadarOnline.com
Lindsay Lohan: "I Know That This Is My Last Shot"
Since 2007, Lindsay Lohan has had two DUI convictions, a handful of probation violations and six stays in rehab. Now, the starlet says she has one last shot at doing what she loves to do. Watch as she explains why there's "nothing left" in drinking and partying for her anymore and reveals what kind of life she wants for herself now.
Then, the cameras switched back to Harrell, who was surprised to see Lohan's hotel mini-bar was empty!
Earlier in the episode, the assistant had sounded optimistic about a new life for the former Mean Girls' star, who is now better known for her arrests than her acting.
"If she screws this up -- she knows what's at stake," Harrell said.
But Lohan -- who also got help from sober coach Michael Cormier, visited her mother, Dina Lohan, and dodged the ever-present paparazzi on the Sunday reality show -- apparently can't help herself!