Lindsay Lohan Reveals Oprah Winfrey Reality Show Fears & Hopes: She Can't Control Editing But Was 'Honest And Real' During Filming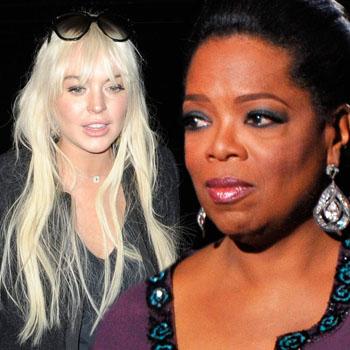 Lindsay Lohan's bad behavior almost got her booted from Oprah Winfrey's OWN docu-series but now the starlet is gushing over her new mentor and admitting that she was "honest and real," during filming but that she knows editing is out of her control.
The 27-year-old ex-con is touting her changed ways, telling Extra's AJ Calloway that she wanted people to know what she is really like on the show.
"I did it because it's not a reality show, it's pretty raw… Obviously it's TV so things will be edited in certain ways to what will get ratings, which I can't control, but I do know that my intentions going into it were really pure and really honest and real and I really appreciate all that's happened and all that she's done for me."
Article continues below advertisement
And she says that her relationship with the television mogul is solid now after Oprah told her to "cut the bullsh*t" when her antics were getting out of control.
"I love that I can call Oprah on the phone, and be like Oprah can we talk right now and she calls me within two minutes and I have to trick her into leaving voice mails so I can just have Oprah's voicemails…She's the coolest person ever.
"She's amazing, she is… She's been a blessing to me, she's great and I couldn't be happier or more grateful."
Lindsay saying overall she feels really good and she just wants to keep working. "My grandmother's dream is gonna come true, I'm taking her on The Chew, so things are looking up… Life is really good."
Tune into Extra Friday for the complete Lindsay interview.