Behind The Bars? Scott Thorson Says Liberace Could 'Possibly Go To Jail' If Their Relationship Happened Today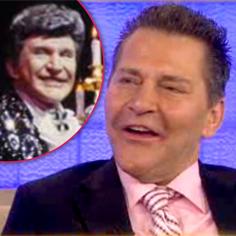 Liberace's former lover Scott Thorson said that with the couple's 40-year age gap -- they began dating when he was in his late teens -- he doesn't think his relationship with the legendary showman "would go over too well today.
"I think that, you know, I was so young at the time … I think you could possibly go to jail for something like that," he told the TODAY show Monday, promoting the buzzy HBO film about his relationship with the entertainer, Behind the Candelabra.
Article continues below advertisement
Thorson, who's currently awaiting sentencing on a credit card burglary conviction, has had numerous issues with substance abuse over the years.
He said that while he doesn't directly blame Liberace for the lifelong issues he's fought through, "There's a sense from quite a bit of my problems, with the plastic surgeries with the drug addiction … we did stupid things."
Still, Thorson reiterated, "It's been a marvelous life," and Liberace's "a wonderful guy."
Watch the video on RadarOnline.com
Visit NBCNews.com for breaking news, world news, and news about the economy
Thorson said filmmakers behind "were right on target" with Behind the Candelabra, and that "you couldn't get a better producer and director and stars."
Beginning when he was still a teen, Thorson (played by Matt Damon in the movie) dated Liberace for six years, from 1976 until 1982. Liberace, was born Wladziu Valentino Liberace, died of pneumonia caused by AIDS at 67 on February 4, 1987 in Palm Springs, Calif.